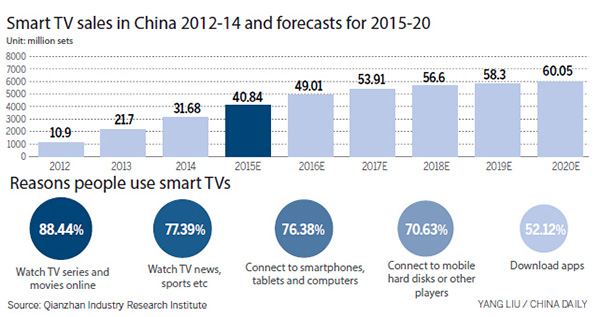 "Television makers need to build a complete industry chain that includes hardware manufacturing, content production and integration of apps."
Still, the market is young and traditional TV makers are also stretching into smart TVs, helped by existing facilities and supplier networks.
"Traditional television manufacturers are able to integrate resources along the industry chain to build an ecosystem for smart TVs," Hu said.
"But Internet companies' creative practices such as online direct sales, fan economy and content integration are worth our learning."
As well, both traditional TV manufacturers and Internet companies are faced with the challenge of improving smart TV user experiences.
That can include providing the right, or new, tools for smart TV couch surfers.
"Most of the apps on smart TVs are transplanted from those on mobile phones. It is not so convenient to handle these apps with a TV remote control as on the mobile phone's touch screen," says Liu, the analyst.
Getting customers to pay for content often free on the Internet may be a challenge, though services that charge customers for music and movies on demand have found niches.
But several firms see a form of convergence between shopping, entertainment and education that, for now, provides a way forward.
One company already in the space is TCL Multimedia Technology parent TCL Corp, based in Huizhou, Guangdong province. It sets up China Star Optoelectronics Technology in Shenzhen in 2009 and thus became the only consumer electronics manufacturer in China that makes liquid crystal display panels and smart TVs.
To bolster its offerings, TCL partnered with Tencent Holdings Ltd, and Open Edutainment, a provider of distance education.
It has also worked with Sichuan Changhong Electric Co Ltd in 2009 on a venture called Huan.tv, now one of the biggest Internet smart TV service providers in China.
And this year, TCL worked with China Research Institute of Film Science and Technology to enable users of GoLive TV, a video-on-demand system developed by TCL, to watch a movie playing at a cinema at home.
"Our goal is to increase profits from providing content and services to 50 percent of the corporation's income in five years," Li Dongsheng, chairman and CEO of TCL Corp, told China Daily at the TCL Global Partner Conference 2015 held in Kunming in October.