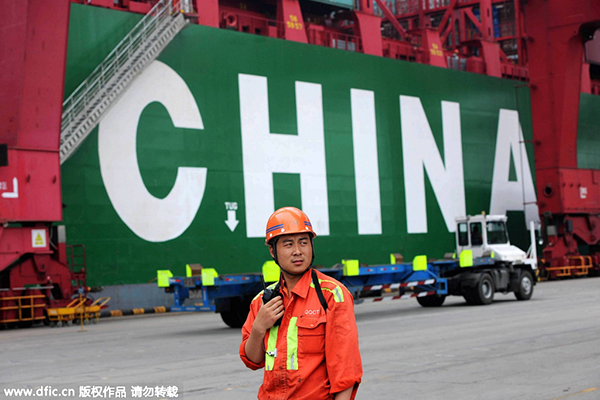 A stevedore works at Qingdao port in Shandong province, July 1, 2015. [Photo/IC]
China's economic slowdown isn't spooking Morgan Stanley, whose eyes are on mainland's "new economy", reported the CNBC.
The investment bank giant likes healthcare, Internet and technology sectors in general, Gokul Laroia, co-CEO for Asia Pacific, said, adding that there was a real disparity between the "new China companies and the old China companies in terms of growth and in terms of prospects".
"[In] certain companies in the consumer value chain we think there's real growth and opportunity for folks to look at," told Laroia to CNBC.
Global index compiler Morgan Stanley Capital International (MSCI) has decided to include US-traded Chinese stocks in its Emerging Market Index for the first time. Fourteen companies such as Baidu and Alibaba are on the list.
According to MSCI, the inclusion will likely bring fund flows worth up to $70 billion into these stocks over the next six months and increase the exposure of Chinese stocks in the MSCI Emerging Market Index to 26 percent.
While the old economy has been impacted by overcapacity, over-leverage, deflation and as a result, very weak earnings and that accounts for the vast majority of market cap, there has been signs of changing, the co-CEO told CNBC.
China's economic growth slowed to 6.9 percent in the third quarter, down from 7 percent in the second quarter, marking its lowest level since 2009 after the global financial crisis.
Economist projected full-year GDP to grow at less than 7 percent, while economic restructuring reforms continue to deepen with increased investments in services and technology sectors.
Laroia suggested investors should focus on the companies as some would do well despite macro challenges, said CNBC.