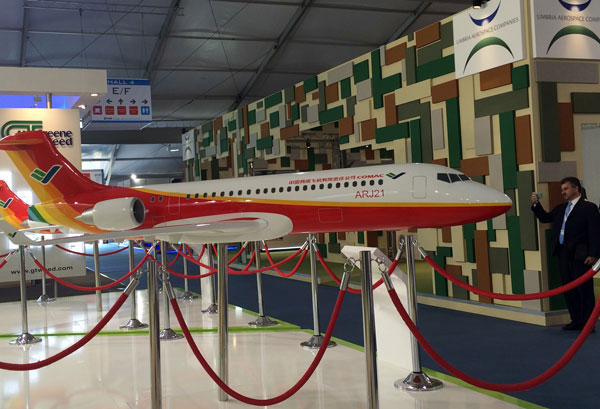 A model of ARJ21700, China's self-developed regional jetliner, on display at the 2014 Farnborough International Airshow. [Photo/China Daily]
BEIJING - The Commercial Aircraft Corp of China (COMAC) will deliver its ARJ21 Xiangfeng, the country's first indigenously designed regional jet, to Chengdu Airlines by the end of the year.
COMAC will deliver the first twin-engined jet at the end of November or the beginning of December. It is expected to fly popular air routes from Chengdu to Beijing and Shanghai, said COMAC and Chengdu Airlines.
The ARJ21 seats 90 passengers in an all-economy cabin arrangement and has a standard range of 2,220 kilometers.
COMAC has received orders for more than 300 jets from 19 airlines, including three jets for the Republic of Congo.
The domestically-designed airliner is China's first regional jet manufactured according to international standards. Its maiden flight was made in 2008, six years after the project was launched.