Dalian Wanda Group
The company has made public two real estate development plans in the UK.
Wanda said in June 2013 that the company would develop a five-star hotel and two 200-meter-tall residential apartment buildings in London. The investment value was expected to be 700 million pounds.
Wang Jianlin, chairman of Dalian Wanda Group, and UK Prime Minister David Cameron jointly announced that Wanda would invest two to three billion pounds in Britain's regeneration project, after their meetings at the 2014 World Economic Forum in Davos, Switzerland.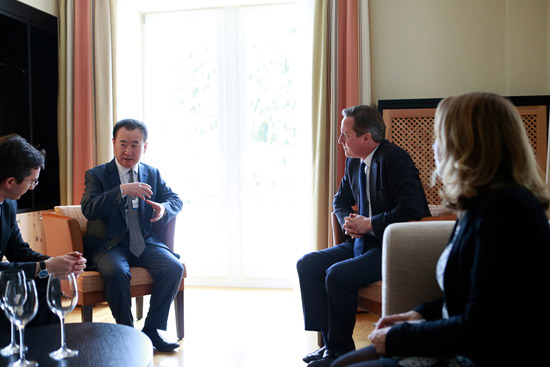 Wang Jianlin, chairman of Dalian Wanda Group, talks to UK Prime Minister David Cameron on Jan 24, 2014 in Davos, Switzerland.[Photo / Provided to chinadaily.com.cn]