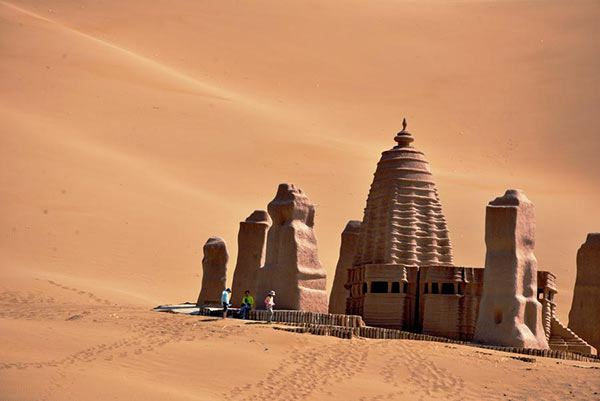 Tourists enjoy activities in the sand at a scenic area of Kumutage Desert in Northwest China's Xinjiang Uygur autonomous region, Aug 10, 2014. Xinjiang's desert still features high temperatures after Liqiu (Aug 7), the beginning of autumn, on the traditional Chinese calendar. Despite the heat, the desert sees an increasing number of visitors after Liqiu, with an average of over 6,000 visits during the weekend, according to the administrative staff of the Kumutage Desert. [Photo/Xinhua]
Shaded under trees, many of which have been there for hundreds of years, a group of tourists stand in three rows within the grounds of a temple in Tianshui in Gansu province.
They are taking part in a moving ceremony to remember Fu Xi, a legendary figure from Chinese mythology-part of a tour in which they are experiencing the rich and ancient cultures of northwestern China.
And thanks to the new Silk Road economic belt, events like this one are becoming ever more popular, for a growing number of visitors.
In Tianshui, which is home to several of Gansu's key antiquities, officials are already working hard at introducing ways of helping finance the expansion of this budding tourism industry
Wang Zhengmao, who heads the local government's tourism department, said 10 million yuan ($1.57 million) has been budgeted to create a new funding joint venture with Gansu Cultural Industry Development Group Co Ltd, to develop Tianshui's tourism resources.
"The cultural sector has been facing financial difficulties for a while, especially among small enterprises involved in the industry," he said.
"We are building this platform to solve those issues, making sure that companies can have access to the capital they need, as well as the abundant historical resources they already have at their disposal."
Wang said the Tianshui venture is particularly open to private money, as well as funds from State-owned enterprises such as GCIDG.
Within the province's various plans, 200 million yuan has been earmarked for infrastructure improvements in Tianshui and Dunhuang-a city well-known for its Mogao Caves-while 500 million yuan has been allotted to tourist facilities in nearby Zhangye.
Zhang Yang, an experienced Beijing travel sales manager, said traditionally tourists have tended to favor China's more developed eastern and southern provinces, rather than western areas.
However, massive interest in the Silk Road concept has meant more are looking at traveling west, attracted by the mystery and history of the ancient trade routes.
"The western areas are still facing fierce competition from tours to Southeast Asia, where prices are falling.
"But after getting to read about the Silk Road, travelers are becoming more adventurous, even looking as far as places like Turkey, because of their Silk Road connections," she said,
"The priority of the local governments in these areas, however, has to be to invest more in improving both their facilities and infrastructure."