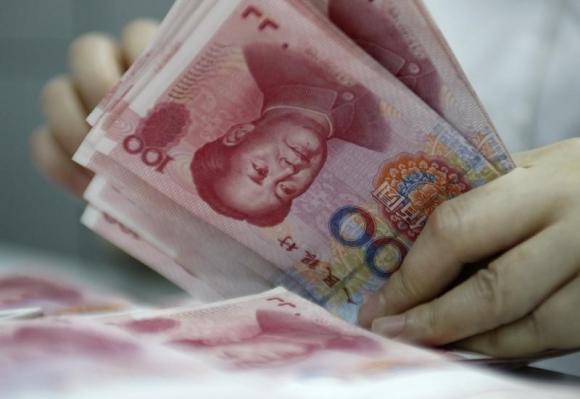 An employee counts yuan banknotes at a bank in Huaibei, Anhui province.[Photo/Agencies]
Investors appear to be gaining confidence in China's efforts to give markets a greater role in determining the renminbi's value, reported The Wall Street Journal.
The central government has spent less to defend the value of the renminbi in recent weeks than it did in the days immediately after its slump, while allowing the currency to flow more freely across borders, the newspaper said.
On Thursday, the yuan rose to its strongest level since it depreciated in early August and traded at 6.3515 per US dollar on the mainland in late Asian trading, according to the newspaper. The quote was in line with its daily fixing rate set by the central bank.
Currently, Chinese banks can trade yuan on the foreign exchange spot market at 2 percent above or below the central parity rate against the US dollar, as the People's Bank of China lifted the daily trading band from 1 percent in March 2014.
Economists expect such trading band will soon be expanded to 3 percent after the State Council promised a more flexible exchange rate.
Investors are now beginning to believe the renminbi will actually stabilize, said Cynthia Wong, head of emerging Asia trading in Hong Kong and Singapore at Société Générale, to Wall Street Journal.
The central bank has continued to intervene in the offshore market and in the domestic currency forwards markets, but not to the same extent as it did in August, the newspaper said, quoting traders.
China's Cross-Border Interbank Payment System was launched in Shanghai on Thursday, designed as an "expressway" to facilitate the yuan's use in international trade and investment.
The system serves as a global clearing platform for real-time settlement in the currency, connecting China with most offshore renminbi centers.
The launch came as the central bank also announced China has adopted International Monetary Fund rules that will result in prompt availability of the country's comprehensive statistics reports and also help improve the quality of its macroeconomic policies.
The yuan overtook the Japanese yen to become the world's fourth-largest payment currency in August, accounting for 2.79 percent of international payments, according to global transaction service provider SWIFT.