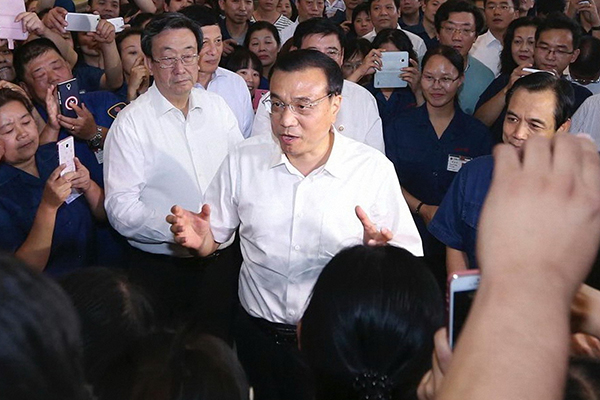 Premier Li Keqiang meets with workers as he visits a mining equipment manufacturer in Luoyang, Henan province, on Sept23, 2015. The premier called for workers not just to rely on their expertise but also on technology. [Photo/China News Service]
Nation's manufacturing sector continues to be hampered by rising labor costs and overcapacity
Premier Li Keqiang called for manufacturing companies to create a new driving force and stabilize China's economic growth through innovation.
Li made the comment on Wednesday in Henan province following the release of the Caixin China Manufacturing Purchasing Managers Index that showed further contraction in the manufacturing sector.
The preliminary reading dropped to a 78-month low of 47 in September from 47.3 in August.
A level of 50 separates expansion from contraction in the sector.
Mass innovation is not only for small and micro-sized companies but also for large companies, the premier said during a visit to a leading mining machinery manufacturer in Luoyang, Henan.
The company set up five workshops led by skilled workers with outstanding manufacturing expertise in 2013.
Zhang Dongliang, 50, is one of five worker leaders. His workshop solved 10 technical bottlenecks in 2014, and one of the 10 breakthroughs could save about 150,000 yuan ($23,500) every year for the company.
"There is always a discrepancy between design and hands-on production, and the mission of our workshop is to materialize the design as best as we can," Zhang said.
Li said the quality of made-in-China equipment sometimes still lags behind that of developed countries, partly because of the expertise of skilled workers.
"The workshop method is innovative, and I hope we use more high technologies in our production in the future, apart from the expertise," Li said.
The country's industrial sector has been contracting since 2014 because of overcapacity and the fast growth of labor costs. The multiyear low of the PMI may suggest that the economy will face strong headwinds before finding a new steady state.
The Chinese economy is still operating within the proper range, Chinese President Xi Jinping said in an interview published in The Wall Street Journal on Tuesday ahead of his state visit to the United States from Tuesday to Friday.