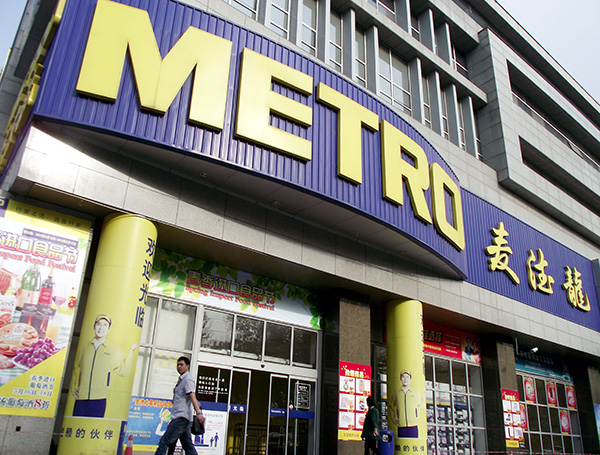 Customers enter a Metro supermarket in Nanjing, Jiangsu province, April 16, 2013. [Photo provided to China Daily]
German retailer Metro Group AG said on Tuesday that it plans to open a store in Tmall, the business-to-consumer platform of Alibaba Group Holding Ltd, to attract more shoppers.
Metro is launching its official flagship store on the Alibaba Tmall International platform and will offer a wide range of German products, according to a statement from Metro.
The online shop will also sell products from Metro's private labels and include supplier brands from Germany. In the first phase, more than 100 categories of products like dairy, canned foods, coffee and chocolate from Metro Cash & Carry Germany as well as cosmetics from Real will be offered for sale.
Olaf Koch, chairman of the management board of Metro, said: "The innovative platform will help us deliver more quality imported goods and German brands to Chinese customers. It will also leverage our competence in global sourcing and a robust supply chain."
Last year, Metro achieved revenue of 18.9 billion yuan ($3.05 billion) in China, a 11.2 percent year-on-year growth. The retailer has 81 wholesale facilities in 56 cities in China and a membership of more than 4 million.
Metro already has its own e-commerce platform in the country. But like other retailers, Metro has also found it tough to attract shoppers in China, according to Jason Yu, general manager of Kantar Worldpanel China.
"It will be difficult for Metro to compete with Tmall or JD.com Inc on width and depth of merchandise as well as in pricing," he said.
Opening a store on Tmall gives Metro access to a huge user base in a relatively short period, and to focus on specialized product offers. Most of the hypermarket retailers have already started their e-commerce arms in the past 12 months, including CR-Vanguard, Feiniu.com (RT-Mart), Carrefour and Wal-Mart, according to Kantar's research.
"The e-commerce arms are an useful extension to the brick-and-mortar stores. However there is still a long way to go for competing with real e-commerce giants like Alibaba or JD.com in terms of geographic coverage and number of shoppers," said Yu.
However, competition among retailers on Alibaba is fiercer than what is offline. In August, Alibaba acquired a stake in Suning Commerce Group Co Ltd, the leading home appliances retailer in China. This was followed by a collaboration between Alibaba and Macy's Inc, the largest department store in the United States.