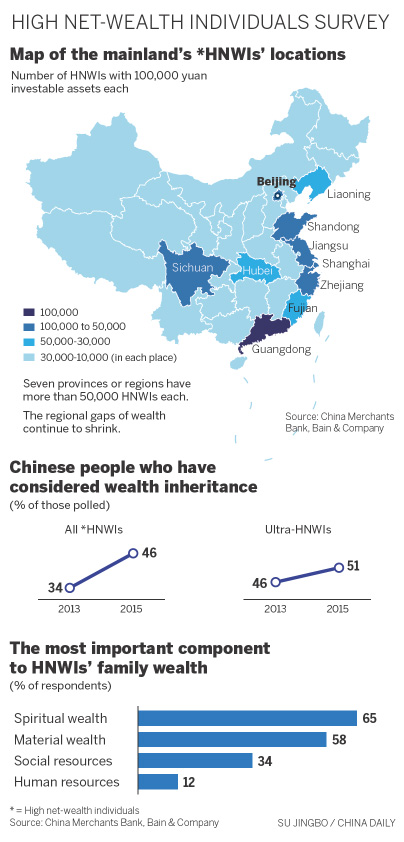 Wealthy Chinese investors helped fuel the rise in the country's stock markets earlier this year. And their figures are increasing all the time.
Statistics released by The Economist Intelligence Unit Ltd, the research and analysis division of the Economist Group Ltd, found that China will outstrip the United States in 2020 with $53 trillion in assets compared with $27 trillion for the US.
Between 2012 and 2014, the strongest growth revolved around high net-worth individuals clustered in central and western regions of the country, according to the China Private Wealth Report 2015., which was released by China Merchants Bank and management consultants Bain & Co.
When you break down the numbers, seven provinces and municipalities, Guangdong, Shanghai, Beijing, Jiangsu, Zhejiang, Shandong and Sichuan, have more than 50,000 high net-worth individuals. These are people who have assets of more than 10 million yuan ($1.6 million) to invest.
Guangdong is at top of the list with more than 100,000 high net-worth individuals, Wealth Report 2015 highlighted. The survey also showed there would be significant growth potential in personal wealth in central and western China-fueled by the Belt and Road Initiative and the Yangtze River economic policies.
Data from the Wealth Report 2015, which covered about 2,800 Chinese millionaires, suggested that the country's private wealth market will reach 129 trillion yuan this year, up by 20 percent on 2014. Finding the right investment plan is crucial and there has been growing demand from high net-worth individuals to diversify their assets.
Wealth preservation remains their main priority, the report said. But one major change involves the number of high net-worth individuals who have started to consider wealth inheritance.
The report also found that these millionaires are also increasingly passionate about overseas investments. This has helped them diversify their assets and spread the risk factor.