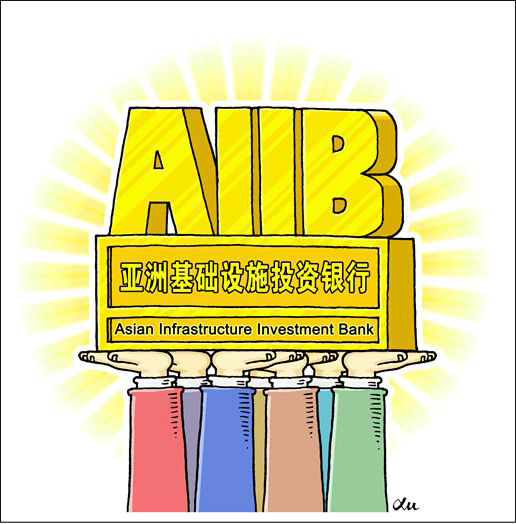 Insider insists Beijing will not deliberately pursue the right
China does not plan to hold onto its veto power over major decisions within the Asian Infrastructure Investment Bank, according to an expert who has been briefed on the final details of its articles of association.
The articles are expected to be formally signed on Monday, the Chinese Foreign Ministry confirmed on Thursday. The AIIB should be operational by the end of the year.
China has until now held largest-shareholder status, with total voting rights enough to single-handedly block any major decision within the bank.
But that could be altered in the future as more countries join the AIIB, according to the source.
"China's status is based on a careful calculation of its economic weight within the member countries," the expert told China Daily, under condition of anonymity. "China does not deliberately pursue that right, nor will it deliberately retain it in the future."
Though not yet officially publicized, the 57 prospective founding members of the AIIB agreed on the text of the AoA at a three-day meeting in Singapore in late May.
The United Kingdom became the first major Western country to apply to become an AIIB founding member, and was followed by major European nations including France, Germany, Switzerland and Austria, as well as Australia.
China will provide $29.78 billion of the bank's $100 billion capital base, The Wall Street Journal has reported.
AIIB's voting-calculation formula considers not only capital contribution but also votes for new members in the future as well as the rights of the 57 founding members.
According to the WSJ, major decisions involving structure, election of the president, capital increases and other significant issues will require a "super majority" of at least 75 percent of votes, meaning China has veto power over major motions, but only marginally, at around 26 percent of the voting rights, Deutsche Presse Agentur reported earlier.
If new countries, especially major economies, join the bank and dilute the voting structure, China's total votes could be lowered to less than 25 percent, thus losing its veto power, it said.
The United States and Japan have chosen not to join the AIIB, but their memberships cannot be completely ruled out, said analysts.
Besides the planned voting rights system, the AIIB is expected to innovate in other areas, such as in its procurement policies and having a non-resident board of directors, the expert said.
Liu Dongmin, a researcher with the Institute of World Economic and Politics at the Chinese Academy of Social Sciences, said: "AIIB's innovation is shown through its principles of openness, inclusiveness and modernity.
"It is trying to make up for the shortfalls of the existing multilateral financial organizations' governance."