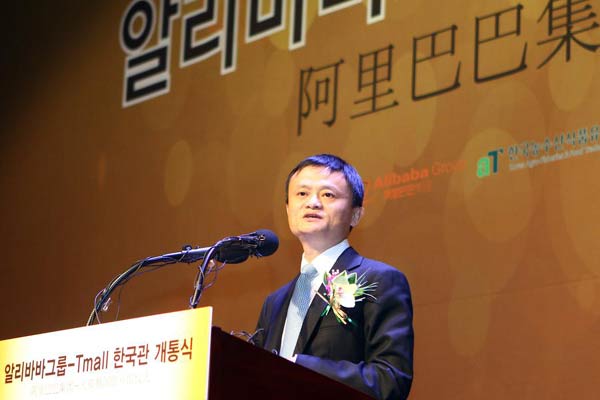 Jack Ma, Founder and Executive Chairman of Alibaba Group, delivers a speech at the opening ceremony of the South Korea Pavilion in Seoul, South Korea, May 18, 2015. [Photo/Xinhua]
SEOUL - China's leading e-commerce company Alibaba Group Holding Ltd on Monday launched its first official online country pavilion "South Korea Pavilion", dedicated to providing Chinese consumers with one-stop shop for Korean products and travel and cultural information, the company's top leader announced here.
Jack Ma, Founder and Executive Chairman of Alibaba Group and Choi Kyunghwan, Deputyhj Prime Minister of South Korea unveiled Tmall.com's South Korea Pavilion Monday.
The "South Korea Pavilion" is in partnership with Korea Argo-Fisheries & Food Trade Corporation and Korea International Trade Association (KITA).
"The South Korea Pavilion is Alibaba Group's first official country pavilion and we will continue to work with governments of other countries to launch similar pavilions in future in order to satisfy the needs of our Chinese consumers," said Ma at the opening ceremony of the South Korea Pavilion in Seoul, adding that it will help more Korean merchants to tap Chinese market.
Ma said the Chinese consumers, especially the middle class, will have increasing demands for imported goods of high quality in the next ten years, which are opportunities for both large Korean enterprises and middle and small-sized ones.
Choi Kyunghwan said the South Korea Pavilion will provide Korean enterprises opportunities to enter Chinese market more easily as Korean products are more and more popular among Chinese consumers, adding that it is a win-win strategy for both sides.
To further strengthen the collaboration between Chinese and Korean companies, Alibaba Group is working with KITA to initiate a youth internship program that will enable 100 Korean college graduates to work as intern at Alibaba Group's headquarters in Hangzhou.
Besides, Cainiao, the logistics affiliate of Alibaba Group, is looking to expand its partnerships with Korean companies to bring the best cross-border logistics solutions possible to the Chinese consumers, said Alibaba.
With the rising demand of Korean products among Chinese consumers, Chinese e-commerce giants are competing to cooperate with Korean counterparts. In March, Chinese B2C e-commerce giant JD.com also launched its online imported goods platform "Korean Mall" in Seoul.
JD.com also plans to set up storage base in South Korea to reduce the intermediate stages of sending Korean products to Chinese customers, trying best to lowering the logistic cost and making sure Korean brands have more competitive price in the Chinese market.