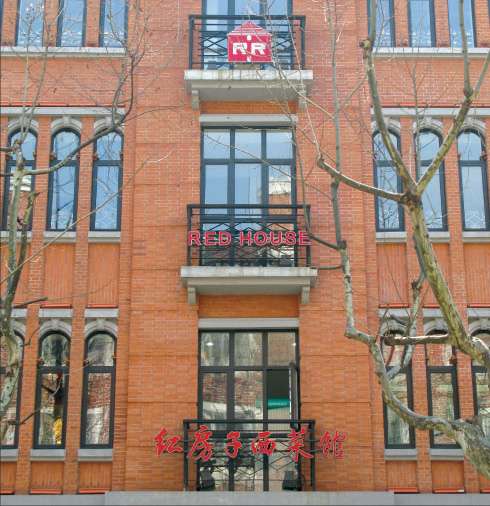 Red House, one of the first restaurants to serve the city's homemade Western cuisine, evokes important or romantic memories for many older local residents. [Photo/China Daily]
Shanghai has long had a fondness for Western dishes mixed to its own tastes. The cuisine, known as hai pai, still has a special place in the hearts of locals
Xiaolongbao (soup dumplings), red-braised pork and hairy crab may have topped every food list compiled by every travel guide for the city of Shanghai.
But one particular type of cuisine is uniquely Shanghainese. It is served in some of the city's most historic and well-preserved buildings and has been eaten by locals on important or romantic occasions for generations.
Known as hai pai xi can, Shanghai's own brand of Western cuisine incorporates elements of French, Italian and German cooking into the local culinary repertoire. It could be compared to the kind of Chinese food sold in Chinatowns across the United States-authentic dishes given a tailored twist.
"It's a kind of Western cuisine that you can use chopsticks to eat, even though most people wouldn't," said Kong Mingzhu, a famous Shanghai food writer. She was speaing at Shanghai Colormen, an invitation-only cultural salon held once a month.
In April, it decided to take an epicurean look back in history.
Staple hai pai dishes include potato salad, fried pork chop and Russian borscht (a beetroot-based soup that actually originated in the Ukraine). In kitchens across the city, these three dishes serve as a litmus test to decide whether the mistress of the house has mastered the local cooking arts.
Yet all of the dishes are different from how they are classically prepared.
Vegetables are absent from the potato salad, which derives from the Moscow classic. Instead, potatoes and processed hams are chopped into dice-sized cubes and mixed with a special salad sauce made from egg yolk and cooking oil. The result is a creamy, sweet concoction.
Fried pork chop remains truer to the Vienna cutlet from which it is derived. But the spicy soy sauce makes it Shanghai's own. Local gourmets are so particular about the sauce that they insist on using only one brand. They are convinced that the slightly spicy, lip-puckering sauce cuts through the greasiness of the pork chop to make it the perfect companion.
The Russian soup, which is better known here as luosong because it sounds similar in Shanghai dialect to the word "Russian", has little to do with the original. As beetroot was not grown in China, it has been transformed into a tomato paste-based soup featuring a hotchpotch of vegetables and a handful of sausage slices.