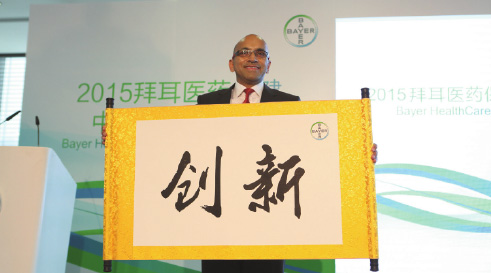 Alok Kanti, managing director of Bayer HealthCare China, holds a scroll reading "innovation" in Chinese to illustrate the company's focus at a recent press conference. [Photo/China Daily]
Bayer HealthCare reaffirmed its leading position in China's healthcare industry with sales of some 1.66 billion euros ($1.85 billion) in the country last year, a 14 percent growth from 2013.
At a recent press conference in Beijing, the company said its pharmaceuticals business grew at an annual rate of 15 percent in China, with a 26 percent spike in its consumer care business and 11 percent growth in its animal healthcare division.
"Our success in China is based on our company's innovation capabilities and patient-focused treatment options," said Alok Kanti, managing director of Bayer HealthCare China.
Based on a forecast by IMS Health, an agency that provides global information on the health industry, the pharmaceutical market in China will grow 9.3 percent from 2014 to 2019, compared to 6.1 percent globally over the same period.
"This is largely because of the size of China's market and its number of patients," Kanti said.
"As people age and as the economy becomes industrialized, disease profiles change," he said. "Despite existing technologies, there is a higher amount of unmet needs."
He pointed to hypertension as one example. One-third of Chinese adults suffer from the disease but only 34 percent of those patients receive treatment, a far cry from the United States, where 77 percent of hypertensive patents get treatment.
The second driver in the nation's overall growth is the central government's recognition of the importance of healthcare, which has led to "significant and rapid investment", said Kanti, who added that the Chinese government is focusing on medical infrastructure in rural areas and tackling diseases that can have a major impact on a small population, such as hemophilia.
Kanti said Bayer is looking at global diseases "where there is no cure today or five years ago" by making major investments in research and development to find cures.
Bayer offers a wide range of medicines, from anti-infectives and cancer-treatment drugs to women's health products.
Last year, it strengthened its consumer care business by acquiring the over-the-counter drug business of US pharmaceutical company Merck & Co Inc and Chinese firm Dihon Pharmaceutical Group, which produces herbal medicines.
The acquisitions made Bayer HealthCare not only the second largest producer of OTC products around the world, but a leading OTC player in China.
Acquiring Dihon "allows us an entry point into the very important area of traditional Chinese medicine", Kanti said, and access to smaller Chinese cities through Dihon's sales networks.