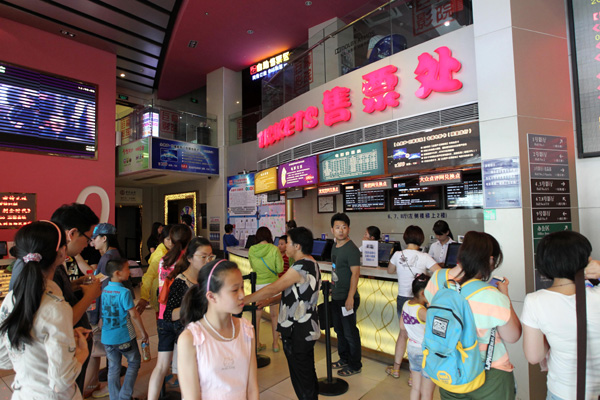 People buy tickets at a movie theater to watch Furious 7 in Nantong, Jiangsu province. [Photo/China Daily]
As Internet players scramble to carve out a slice of China's booming film sector, cinemas in the world's second-largest movie market are undergoing a rapid transformation, starting from the way they sell tickets.
"We have seen an explosive growth in the number of people who have migrated to online platforms to purchase tickets since last August," said Li Chao, marketing director at Beijing Jinyi International Cinema's Zhongguancun Branch.
"In January, over 47 percent of our visitors bought their tickets online, surging from 21 percent last December," Li said. "To meet the growing demand, we set up dozens of new ticket vending machines by teaming up with online platforms."
Beijing Jinyi is one of thousands of cinemas in China experiencing the new trend. A recent report by Beijing-based Internet consultancy Analysys International reveals that over 45 percent of cinema tickets on the mainland were purchased online last year.
The active engagement of Internet companies, the report said, has spawned 40 online platforms dedicated to selling movie tickets. The lion's share goes to Maoyan, which is owned by Meituan.com, a group-buying site financially backed by Alibaba Group Holding Ltd. It has almost 17 percent of this growing market, while Shanghai-based ticketing website Gewara.com occupies second place with a 7 percent market share.
Social networking heavyweight Tencent Holdings Ltd is also cashing in on the booming sector. Its Wechat platform, China's most widely used online chatting application, started to offer ticketing services in 2013 and sold 5 percent of all movie tickets last year.
The intensified push by Internet enterprises to lure film buffs comes amid both the exponential growth of China's movie industry and the increasing popularity of the O2O (online-to-offline) model in the service sector.
Figures from the State Administration of Press, Publication, Radio, Film and Television show that the total box office in China reached 29.6 billion yuan ($4.8 billion) last year. A decade earlier, in 2004, mainland box office receipts were a mere 1.5 billion yuan.