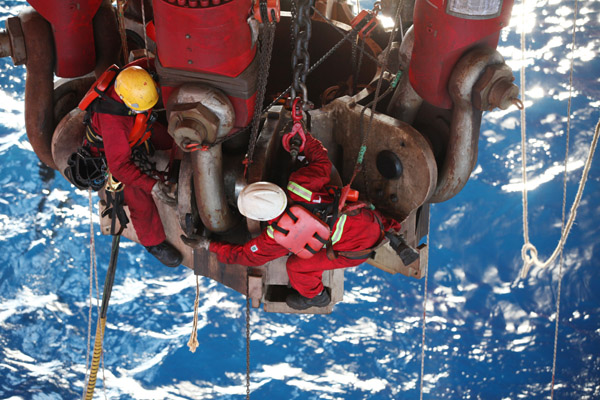 Workers on an oil-drilling platform in the South China Sea. [Photo/Xinhua]
TORONTO - As the energy industry in Canada is struggling to control the oil prices, experts and business insiders suggest emerging opportunities for investment, but they warn Chinese investors to hold their horses.
Canada's big oil and gas companies start reporting their quarterly financial results this week, which sources in Alberta say could trigger more budget cuts and possibly another wave of layoffs even as crude prices edge up from multi-year lows since last summer.
"The volatility is hard to read as to where the bottom is," said Bruce Edgelow, vice-president of energy with ATB Financial." People want to have a sense where the market is going, we hate getting caught by surprise."
Major oil producers like Nexen ended up with asset writedown and job cuts, two years after China's CNOOC finalized the $15.1 billion purchase, the country's largest overseas deal at that time. But Edgelow says the rate of returns in a downward market should not hamper the long term strategy for Chinese investment in the Canadian oil sands.
"Chinese investors are no different than we are as long term investors. While the near term price may affect the current view or appetite to do more, but we are investing for a long term," Edgelow told Xinhua in Calgary in a recent interview.
After CNOOC acquired a bloated workforce from Nexen, insiders say the integration of the two companies has not gone well.
The reason why CNOOC spent so much money on takeover, not on the property, but more on the team, is "When the established team becomes a burden, why not build a new team for that matter?" said Mason Wei, president of SinoSky Petroleum.
Investment experts believe it takes time to consolidate after company mergers in terms of employees, structure and company culture. "It takes up to 10 years to judge an investment. When oil prices are to rise, the Chinese projects here in Alberta are to pay off," explained Derek Zhao at ATB Financial.
Canada's oil sands, mostly in the western province of Alberta, has proven reserves of about 170 billion barrels, the third-largest in the world, after Saudi Arabia and Venezuela. Known as Capital of Energy, Calgary hosts the head office of nearly every major oil companies home and abroad. In the past 15 years, it has seen a booming capital inflow from all over the world, including Chinese State-owned CNOOC, CNPC and Sinopec.
As of January 2015, China has had a total investment of $53 billion in Canada, 78 percent being in its energy sector, according to statistics from China Institute at the University of Alberta in Edmonton, which launched an online China-Canada Investment Tracker in November 2014 as part of their project to study Chinese investments in Canada.
Industry sources say China's capital and Canada's resource are a perfect match. In a move to seek more investment for the province that faces a cash crunch of up to C$7 billion, Alberta Premier Jim Prentice is set to visit China later in May.
Some state-of-the-art technologies developed by Chinese companies could help ease the criticism against the "dirty oil" by environmental groups. But analysts caution against the risks in tapping the high-cost tar sands, which involves environment concerns, policy restriction, pipeline layout and local labor system.