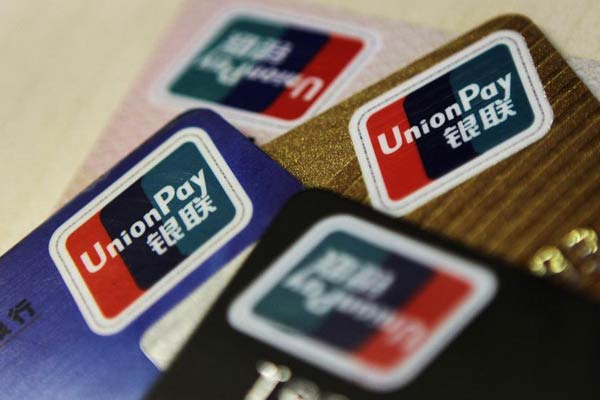 Logos of China UnionPay are seen on bank cards in this file photo illustration taken in Beijing Dec 5, 2013. [Photo/Agencies]
BEIJING - China's State Council announced detailed regulations to widen the market for bank card clearing services, further opening the financial sector.
Starting from June 1, China will implement access management on bank card clearing institutions and issue licenses to domestic or foreign companies qualified to set up bank card clearing institutions, the State Council said in a statement.
Companies with a standard bank card clearing system and a registered capital no less than one billion yuan ($163 million) are qualified to apply to conduct bank card clearing services in China and should follow the industry rules, said the statement.
Clearing companies connect banks, shops and card users together and settle transactions by turning the promise of payment into actual transfer of money from one bank to another. Their profits come mainly by charging commission.
Currently, only China UnionPay Co, the national bank card association founded in 2002, is approved by the People's Bank of China to provide clearing services for bank card transactions in the country.
China promised to reform its payments clearing market in 2012 after the United States filed a complaint to the World Trade Organization accusing China of discriminating against foreign firms.
At an executive meeting of the State Council last October, China decided to allow domestic and foreign companies that meet certain requirements to apply to set up bank card transaction clearing institutions.
Market insiders believe that the upcoming foreign penetration is expected to further raise competition in the business as "third party payment" companies, Alibaba's Alipay in particular, boasting convenient and free online payment are already eating into the user base of traditional card transactions.