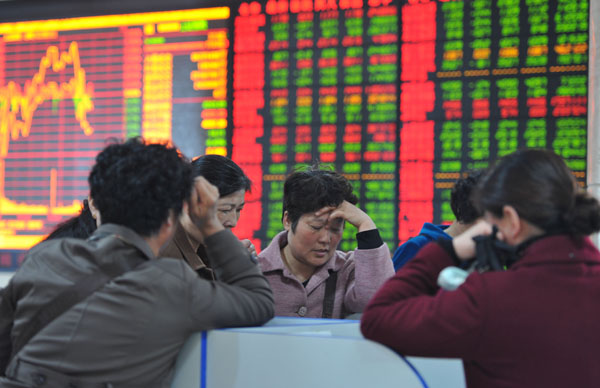 Investors check share prices at a brokerage in Fuyang, Anhui province, April 20, 2015. [Asianewsphoto by An Xin]
Chinese stocks retreated on Monday, with daily turnover exceeding 1.8 trillion yuan ($290 billion), over a reserve requirement ratio (RRR) cut and new short-selling measures.
The benchmark Shanghai Composite Index, halting a two-day gain, declined 1.6 percent and closed at 4,217.08 points, while the Shenzhen Component Index slid nearly 2 percent to 13,871.60 points.
Brokerages and banks led the loss on Monday, with Merchants' Securities and Western Securities losing more than 6 percent. Industrial Bank sank by 5.3 percent and Nanjing Bank by 5 percent.
Software companies also tumbled, as Hangzhou Lianluo Information Technology, Sinodata and Hangzhou Sunyard Technology slid 10 percent, 8.9 percent and 6.7 percent respectively.
The daily turnover at Shanghai Stock Exchange exceeded 1.1 trillion yuan on Monday, and the transaction value at Shenzhen Stock Exchange reached 655 billion yuan.
The retreat came despite the central bank's lowering the amount of cash that financial institutions need to reserve by 1 percentage point starting on Monday. The cut is expected to release liquidity of at least 1.2 trillion yuan ($197 billion) to support economic growth.
It is the second RRR cut in three months, the biggest slash since November 2008.
The move also includes an extra 1 percentage point cut in the ratio to commercial banks for agricultural services and a further cut by 0.5 percentage points to eligible banks that lend a certain amount of money to agricultural borrowers or to small and micro businesses, according to the People's Bank of China.
As the other major policy adjustment announced after the market closed on Friday, the country's securities regulators unveiled measures to clamp down on the use of shadow financing for equity purchases and increase the supply of shares available for short sellers.
Fund managers will be allowed to lend shares for short-selling after mainland markets closed, according to Xinhua news. Spokesperson of China Securities Regulatory Commission Deng Ke said on Saturday that the move should promote a balanced development of margin trading rather than suppress the stock market.
The bull market is unlikely to end abruptly amid monetary easing and the market will now start to price in another interest rate cut, said Hong Hao, chief strategist with Bocom International in Hong Kong in a note, while adding that the market will be extremely volatile and a potential 10 percent swing from high to low will shake out many weak hands.
The Shanghai gauge has gained 77 percent in the past six months.