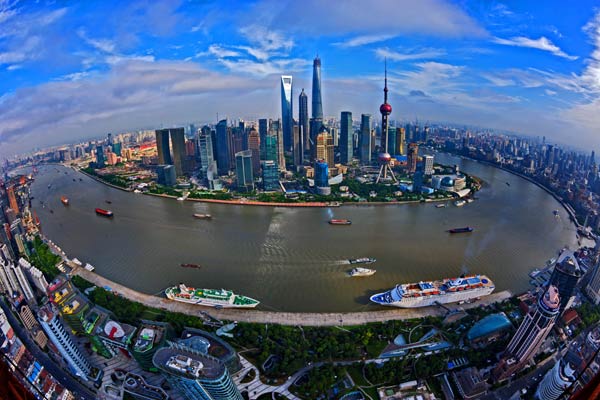 A current view of the Pudong New Area (top) contrasts with one taken in the early 1990s after construction work began. [YANG HUANMIN AND JIN RONG/FOR CHINA DAILY]
The Pudong New Area in Shanghai is marking its 25th anniversary-rising from rural farmland to become an engine for economic and social development in the city and the nation.
During this time, with the area's skyline changing rapidly, it has been transformed into an outward-looking and modern urban district with multiple functions.
According to Shen Xiaoming, secretary of the Party Committee in Pudong, "The area has followed the national strategy from the central government to focus on opening-up and innovative reform, which has seen it become a powerful engine for China in just over two decades."
Pudong, on the east bank of the Huangpu River, has become an international financial, shipping and trading center for Shanghai and China.
On April 18, 1990, the Central Committee of the Communist Party of China and the State Council announced the opening-up of Pudong.
Compared with 1990, the size of the economy in Pudong has risen by 118 times, total fiscal revenue has increased 290 times and regional fiscal revenue has grown 137 times.
By the end of last year, the combined annual cargo tonnage of Waigaoqiao Port and Yangshan Port, both of which are connected to Pudong, exceeded 32 million TEUs (20-foot equivalent units), a figure unsurpassed worldwide.
The volume of imports and exports passing through Pudong reached $260 billion, making up 55.7 percent of the total for Shanghai. The area also houses 844 regulatory financial institutions and the offices of 308 of the world's top 500 companies.
Since 1990, Pudong has launched China's first stock exchange in Lujiazui, welcomed a group of foreign banks led by Fuji Bank from Japan, merged Nanhui district, and set up the China (Shanghai) Pilot Free Trade Zone, all of which pushes it to move ahead with the second round of transformation.
Shen said, "The district has gathered advanced technology, excellent talent and high-end companies from all over the world."
Sun Jiwei, Pudong New Area chief, said, "We are keen to open up and become innovative by helping companies set up research and design centers, recruit high-tech talent and offer subsidies to attract more creative ideas."
Some foreign companies with headquarters in Pudong have launched research and design centers in the area to produce "Created in China" goods.
"We've moved from the basic stage of manufacturing localized or adjusted products for the domestic market to designing and producing items in China for the global market," said Chen Xiangli, president of GE Technology Center in China.
Gu Bin, deputy director of the Science and Technology Commission in Pudong, said, "We're working on an international business incubator in cooperation with other countries in Zhangjiang (Hi-Tech Park) to offer a global business environment for local companies to learn and grow efficiently and rapidly."