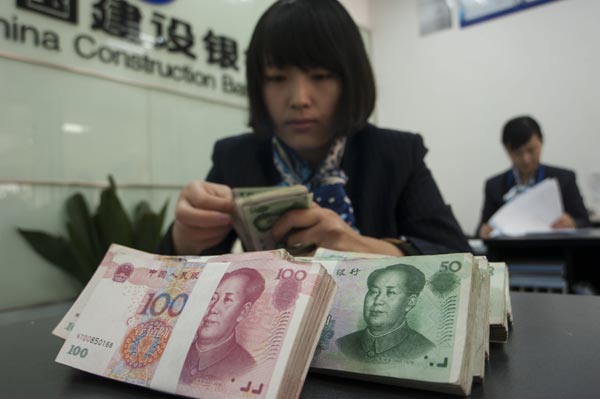 A clerk at an outlet of China Construction Bank Corp in Hai'an, Jiangsu province. Statistics show that the problem of nonperforming loans expanded in 2014 from the Yangtze and Pearl river regions into western China. [Photo/China Daily]
Several senior executives of China's biggest banks have left their positions since the country imposed salary limits on staff of State-owned enterprises, Time Weekly reported Monday.
Former senior executives, including Bank of Communications' Vice President Qian Wenhui, China Construction Bank (CCB)'s President Zhu Hongbo and Bank of China (BOC)'s Chief Credit Officer Chim Wai Kin, have consecutively left their positions in the State-owned banks.
It is said that the reasons for the departures are due to the pay restriction newly imposed by the authorities, according to the report.
The government announced last year that it would reduce the salary level for executives at State-owned companies. For banking executives, a source familiar with matter said, the salary was capped at 600,000 yuan ($96,845) beginning Jan 1 this year.
Chim's annual compensation package in 2013 was 8.5 million yuan, ranking the executive as the highest-paid among his peers at listed Chinese banks, the report said.
The restriction will make it hard for State-owned banks to retain high-quality talent, said Victor Wang, a Hong Kong-based analyst at Credit Suisse Group AG, cited by the newspaper.
Most of the senior executives have stepped away from the State-owned banks to joint-stock banks or private banks, Zhang Xuekun, director of the branch of China Construction Bank in south China's Guangdong province, told Time Weekly.
BOC's Zhu has been placed in China Everbright Group, a joint-stock enterprise, and Ling Tao, former deputy director of the central bank's Shanghai branch, has been taken the position of president of Shanghai Huarui Bank, a private bank.
And sources also said that Hou Niandong, deputy head of the Zhejiang branch of the Industrial and Commercial Bank of China (ICBC), will serve as the head of Wenzhou Minshang Bank, another private bank in China.