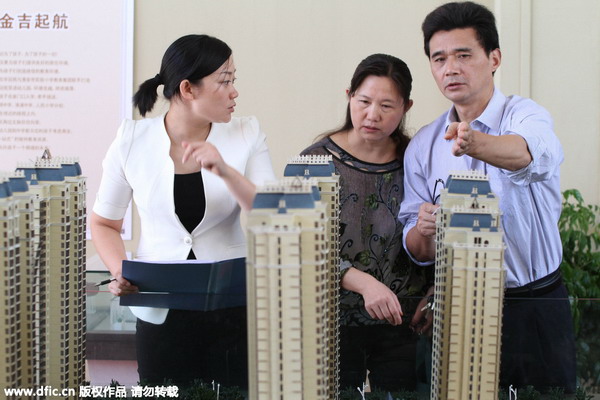 Potential buyers select homes during a real estate exhibition in Huaian, Jiangsu province, Sept 21, 2014. [Photo / IC] 
Concrete measures are needed to keep real estate firms in the pink of health, reports Wu Yiyao in Shanghai.
Though real estate sales are expected to be given a short-term boost from the relaxations in mortgage down payment and property transaction tax requirements, more concrete steps are necessary to maintain the growth momentum over the long term, industry experts said on Tuesday.
The policy easing moves announced by the government on Monday are seen as a vital prop for an industry that has been behest with flagging sales, lackluster demand and dwindling returns despite the fact that the number of beneficiaries are still limited, said Zhang Dawei, chief analyst with property information provider Centaline.
The latest measures are expected to boost real estate demand by 10 percent, with some cities likely to see 30 percent quarter-on-quarter growth in transaction volumes during the second quarter of the year, Zhang said.
According to the new rules, the down payment requirement for all second mortgages has been lowered from 70 percent to 40 percent, and for mortgages taken out against the housing provident fund, the requirements for first-home buyers was cut from 30 percent to 20 percent.
Property transaction tax on homes owned for more than two years has been scrapped, while previously only homes owned for more than five years were eligible for transaction tax waiver.
Analysts said the moves will improve affordability and boost property sales.
Franco Leung, vice-president and senior analyst at global ratings agency Moody's Investors Service Inc, said: "These changes will make it easier for homebuyers to obtain mortgages and lower the cost of property transactions for borrowers who meet certain criteria. We believe that the relaxed mortgage terms and housing taxes will encourage more prospective buyers to buy homes for their own use and as an investment, and therefore support home sales."
Regina Yang, director and head of research at real estate consultancy Knight Frank Shanghai, said: "Many potential homebuyers had held back on purchases and were waiting for the right opportunity to cash out. The policy easing has provided that option and it is a good time for potential homebuyers. They can now afford to buy more spacious and higher quality apartments with the same money now as down payment requirements are lower, thereby unlocking the purchasing power."
Ma Liqun, a 34-year-old dentist and prospective homebuyer in Shanghai, said the policy relaxation may enable him to buy a second home with limited savings.
Ma said prior to the policy easing he would not have been able to afford a second home in downtown Shanghai as the required down payment would be about 2.73 million yuan ($440,000). Ma said his family needs a bigger home as he had a son this year, and their current one-bedroom apartment is not big enough for them.
But with the new policy, his savings are enough as the down payment requirement will be lowered to 1.56 million yuan. "Not only are they (savings) enough to pay the down payment, but they will enable me to retain or rent my first home. I have already visited two apartments during my lunch time break and one of them looks great. If things go smoothly I will buy it soon," said Ma on Tuesday.
A survey conducted by Swiss bank UBS AG earlier this year showed that home purchasing intentions remain solid and most homebuyers are relying on mortgage financing. However, the majority of homebuyers consider home prices too high, suggesting that a reduction in down payment requirement and cut in interest rates could help bolster home sales.
Frank Chen, executive director and head of research at CBRE China, a real estate consultancy, said: "Residential property market in first-tier cities may be more sensitive to the easing because buying a home in these cities rely heavily on bank credit, and the total transaction value of an apartment may be quite high. Lower down payment and transaction tax waiver may help activate the new housing market and the pre-owned home market."
Sales may be further boosted when developers with weak liquidity, limited pricing power and high inventories decide to offer promotions, said a research report from Moody's.
Lower down payment, however, does not guarantee lower costs. Take a 2-million-yuan apartment for example. The total payment is 2.85 million yuan on 20-year mortgage with monthly installment payment of 8,525 yuan when the down payment is 40 percent. The same becomes 2.42 million yuan on 20-year-mortgage with annual payment of 4,264 yuan when the down payment is 70 percent as per the earlier requirements.