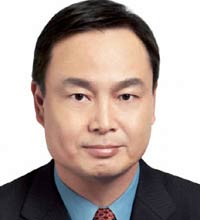 Chim Wai Kin, chief credit officer of Bank of China Ltd
Chim Wai Kin, the chief credit officer who was Bank of China Ltd's highest-paid executive, has left his job amid pay cuts being imposed on senior managers at Chinese lenders, according to sources with knowledge of the matter.
Chim, whose 8.5 million yuan ($1.37 million) compensation package in 2013 was the highest among executives at listed Chinese banks, departed after his contract expired and was not renewed, the unnamed sources said.
The exit of Chim, who oversaw credit quality at China's third-largest lender by market value, comes as lenders grapple with a slowing economy that has triggered a surge in bad loans.
Senior managers at the nation's five largest banks-all of which are government-controlled-had their total compensation for this year cut to no more than about 600,000 yuan, people with knowledge of the matter said earlier this month.
"You don't want to lose your chief risk officer at a time like this," said Castor Pang, Core Pacific-Yamaichi's head of research in Hong Kong. "People will be asking questions such as whether risk controls at the bank will be weakened as a result of his departure."
A press officer at Bank of China in Beijing did not comment, and Chim could not be reached at the bank.
Chim is not subject to the new pay restrictions because he is a foreigner and was not appointed by the Chinese authorities.
Still, the limits on other executives made it hard for him to remain at the bank, one of the sources said. Chim, a citizen of the United Kingdom, has worked in credit and risk management for more than 20 years, including at Standard Chartered Plc, Bankers Trust Co and Deutsche Bank AG.
Chim's 2013 compensation package included his base salary, incentives and benefits such as housing allowance.
Excluding incentive compensation, he was paid 5.75 million yuan last year, Bank of China said in a statement on Wednesday.
The government said last year it will reduce salaries for executives at State-owned companies because the public is unhappy with "unreasonably high" incomes. The new pay limits, starting this year, apply to chairmen, presidents, heads of supervisory boards and vice-presidents at the largest banks, the people familiar with the matter said this month.
For banking executives, their monthly base salary was cut to about 5,000 yuan to 6,000 yuan.
Most senior executives at the largest Chinese banks received total compensation of less than 2 million yuan in 2013, according to filings from the five biggest lenders.
"Low compensation will make it hard to retain high-quality talent" at State-owned banks, Victor Wang, a Hong Kong-based analyst at Credit Suisse Group AG, wrote in a note.
"Eventually we are likely to see SOE banks suffer consistent talent outflow to joint-stock banks or foreign banks."