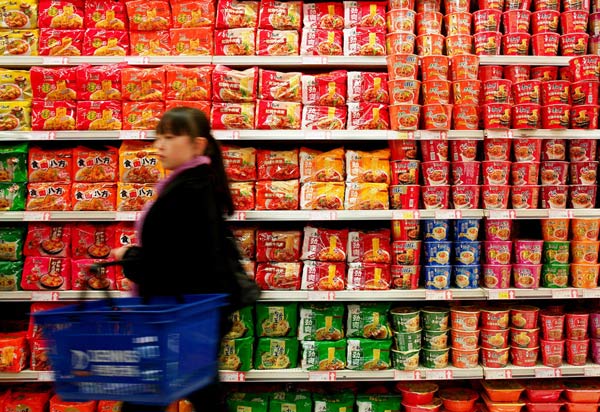 Instant noodles on display at a supermarket in Zhengzhou, capital of Henan province.[Provided to China Daily]
Instant noodles are an essential part of life for many people in China and other Asian countries, thanks to their convenience, cost and taste.
Chinese people consume more than 40 billion packets of instant noodles annually, accounting for half of the world's total. But instant noodles have been losing favor in China recently, especially among lower-income consumers.
Chinese instant noodle retailers are struggling to bounce back amid rising concerns over several issues, such as beliefs that instant noodles are junk food and have no nutritional value, or that they can cause heart disease.
In the third quarter of 2014, the sales volume of instant noodles declined 9.1 percent year-on-year. Meanwhile, revenues fell 4.4 percent, according to a report by global market research firm Nielsen.
The Nielsen report shows that three-quarters of the interviewees said they were willing to pay a higher price to buy healthy food, including natural food without artificial flavoring, and non-genetically modified food.
In the Chinese mainland, popular instant noodle brands Uni-President China Holdings Ltd and Master Kong Co Ltd dominate the market. The remainder is split among several smaller brands, and many of them have been eliminated from competition.
From 2000 to 2010, about 90 percent of instant noodle companies closed in China, according to the Chinese Institute of Food Science and Technology.
According to a survey by China Confidential, an affiliated China-focused news service of The Financial Times, migrant workers, one of the main groups of instant noodle consumers in China, have rapidly formed their preferences for Chinese and foreign brands with their income growth. The survey interviewed 1,500 migrant workers.
In recent years, more migrant workers shifted from eastern China to mid-western regions, and an increasingly higher number of workers moved to second-tier cities. Instant noodle giants have been penetrating the Chinese market mainly in developed areas, such as the eastern coast and first-and second-tier cities in western China, but instant noodle sellers didn't launch suitable products and services, and have failed to expand their sales network to those areas where the migrant population is distributed.
Facing the competition, many Chinese instant noodle makers seek to attract customers by offering lower prices and coming up with new products, but a niche has developed for high-end instant noodles imported from South Korea, reflecting the growing popularity of South Korean products on the strength of TV dramas from the country.
The Shin Ramyun instant noodle brand produced by South Korean food manufacturing giant Nonshim, for example, has been on sale in major supermarkets and online shops around China over the past few years, providing stiff competition to local brands, Want China Times reported.