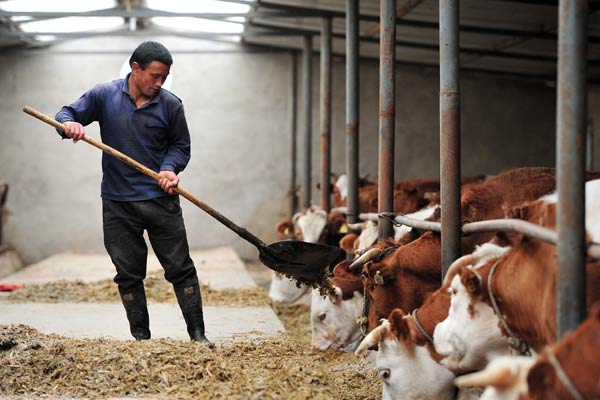 A worker feeds cattle at a farm in Jingyuan county in the Ningxia Hui autonomous region. [Photo/Xinhua]
"Huge amounts" of American beef are bypassing China's import bans, a top US trade official said this week, even as the Chinese government cracks down on agricultural smuggling.
The meat enters through Hong Kong, Deputy US Trade Representative Robert Holleyman said at the National Lieutenant Governors Association conference on Wednesday.
US beef is currently barred from Chinese mainland because of previous cases of bovine spongiform encephalopathy, also known as mad cow disease. US trade officials have been trying to get China to lift the ban, but with little success.
Holleyman said US officials had told their Chinese counterparts: "You need an agreement like Hong Kong. And that's what we have been negotiating."
How much US beef is being transshipped through Hong Kong into China is not known, trade officials said. But the volume that comes in from the United States alone is more than all the beef consumed in Hong Kong, they said.
The US exported more than 154,500 tons of beef and beef products to Hong Kong last year, up nearly 19 percent over the previous year, according to USDA data.
Industry sources estimated last year that hundreds of thousands of tons of beef from countries such as Brazil and India are smuggled into Chinese mainland through Hong Kong and Vietnam.
The unofficial trade reflects China's hunger for beef, as the growing middle class demands more high-protein food.
Last month, Chinese customs officials arrested 33 people suspected of smuggling 6,000 tons of beef into the country from the United States, and the beef was worth about $32.6 million, according to an earlier report.
US restaurant company McDonald's Corp said it does not source beef for its Chinese restaurants from Hong Kong. About half of the beef it uses in Chinese mainland is local, the company told Reuters on Thursday. The rest comes from New Zealand, Australia and Uruguay.
Beef supplies from Australia could get tighter this year, helping to push up prices, analysts said. Ranchers in the world's third-biggest beef supplier are culling fewer cows as heavy rains revive pastures scorched by a prolonged drought.
A slower slaughter rate could boost Australian cattle prices to record highs and ramp up costs for key consumers.