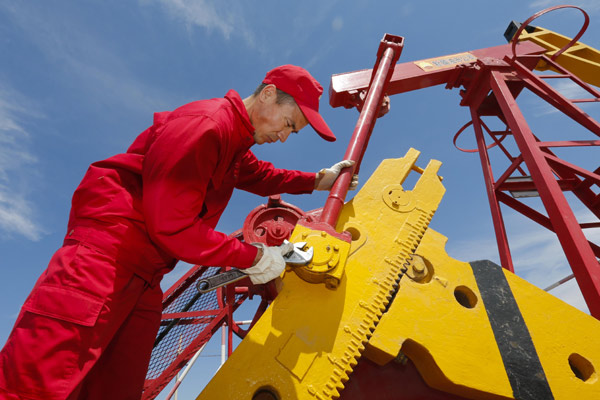 An employee of a subsidiary of CNPC's oilfield operations in the Xinjiang Uygur autonomous region inspects pumping equipment. CNPC will make available a 49 percent stake in its oilfields in Xinjiang to other investors. [Zhang Yuwei / Xinhua]
The resource-rich Xinjiang Uygur autonomous region in western China will become the center of State-owned energy companies' reform this year with the launch of a pilot project by the country's biggest oil and gas producer in the area.
China National Petroleum Corporation will make available a 49 percent stake in its oilfields in Xinjiang to other investors, including private companies, said Xie Wenyan, general manager of Tarim Oilfield Company of PetroChina Co, the listed arm of CNPC.
He said that Tarim Oilfield Co has achieved an initial agreement with Xinjiang Energy Co and Aksu prefecture government to co-develop the Tarim oilfield.
Once the cooperation starts, it will mark the beginning of mixed-ownership reform in the upstream oil exploration business, which has long been dominated by State-owned enterprises.
The Tarim oilfield is the third-largest oilfield under CNPC, with a total oil and gas output of 24.67 million metric tons in 2014.
In Xinjiang, CNPC owns other two oilfields - Karamay and Turfan-Hami - and the company will seek local government capital and private investors to jointly develop them.
"CNPC welcomes private investors to participate in its oil exploration sector. However, since this industry has a high investment threshold and strict requirements for technology, management and capital, it is still very cautious about cooperation," Xie said.
The safety and environmental protection standards for oil exploration in Tarim are high because of the geological conditions, said Xie, explaining that this is due to the oil formations being buried deeply in the area.
Private companies usually have high expectations of investment returns from oil blocks owned by national oil companies once they have opened the resources.
However, many private investors are hesitant at the moment as the global crude price remains quite low and a huge scale of investment is required to invest in such a high-risk industry, Xie said.
"We have been discussing mixed-ownership reform in Xinjiang for some time, but it still needs time to make real progress," he said.
Liu Yijun, a professor at China Petroleum University, said CNPC's reform in Xinjiang would bring real benefits to the local population.
He added that it is not the first time that CNPC has opened its assets to private investors in Xinjiang.
Last May, PetroChina said it would transfer the assets of its First and Second West-East Gas Pipelines to a new subsidiary, PetroChina Eastern Pipelines Co.
All of the assets of the new company - worth 82 billion yuan ($13.14 billion) - will then be sold by public tender on an asset exchange on the Chinese mainland.
The pipeline network delivers natural gas to China's eastern cities from Central Asia and Xinjiang.
Lin Boqiang, director of the China Center for Energy Economics Research at Xiamen University, said the move was an indication that China is taking concrete steps to break the monopoly in the energy sector.
However, little has happened since CNPC made its initial announcement about the pipelines almost a year ago, apart from CNPC Chairman Zhou Jiping stating in June that the company would open its oil and gas pipeline facilities to third-party use.