A prudent monetary policy has not been changed, as this year's M2 growth target is still moderate, said Zhou Xiaochuan, governor of the People's Bank of China, at a press conference during the two sessions on Thursday.
Zhou said the M2, a key indicator to China's macroeconomic policy, still targets moderate growth despite certain directed monetary instruments applied.
The country lowered this year's M2 growth target to 12 percent from 13 percent, said Premier Li Keqiang in his national work report to the National People's Congress, where he set the GDP growth target at about 7 percent, down from 7.5 percent in 2014.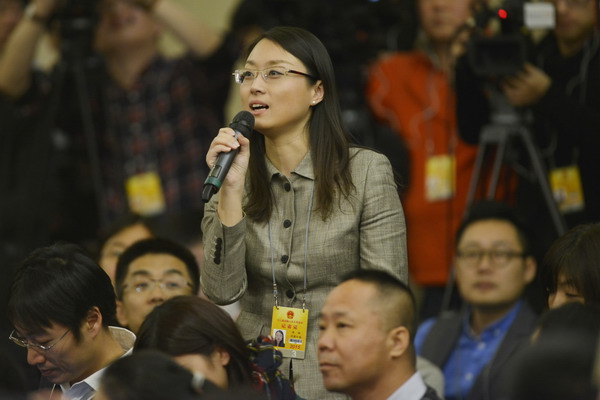 A reporter from China Daily asks a question during the press conference on Thursday. [Wei Xiaohao / chinadaily.com.cn]
Zhou said that the monetary tools applied by the central bank account for only a limited portion, compared with the overall size of Chinese economy.
"The 'new normal' is a normal state, not special, so there is no need to use a new word to explain the monetary policy," he said.
The central bank has cut benchmark interest rates twice since November. It also reduced the amount of cash that banks must hold as reserves in early February, in order to increase market liquidity and offset the increase of capital outflows.
"We should pay close attention to the prices changes when price fluctuations appear in the international commodity market. But we should be cautious and take a longer period to observe the changes."