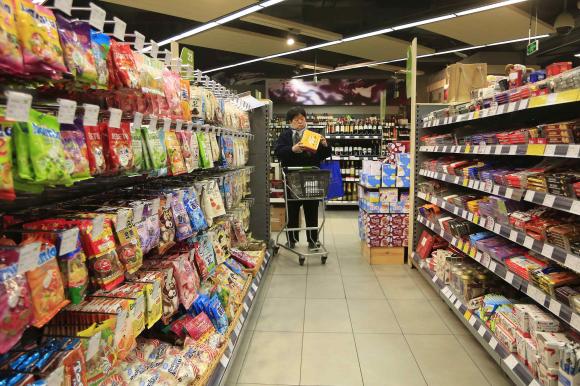 A customer selects products at a supermarket in Shanghai, February 10, 2015.[Photo/Agencies]
China is likely to cut interest rates or reserve requirements again if consumer inflation drifts below 1 percent, a member of the central bank's monetary policy committee said, as he ruled out more support for the sagging Chinese property market.
Qian Yingyi said policymakers still needed to monitor the inflation data for March and April to judge if deflation pressures were deepening in the world's second-biggest economy.
Having seen China lower interest rate twice since November, and also cut the level of cash banks must hold as reserves last month, most investors assume that China will further loosen monetary policy in coming months to buoy an economy that is on course for its worst year in a quarter of a century.
In an interview with Reuters on Wednesday, Qian, who is also an economics professor at China's Tsinghua University, said any policy move "is very much dependent on inflation".
"Many analysts believe that deflationary pressures will continue. If that happens, I won't be surprised if the central bank continues to reduce reserve requirements as well as interest rates," he said.
China's annual rate of consumer inflation quickened to 1.4 percent in February from a 5-year low of 0.8 percent the previous month, but Qian said the bounce could be a one-off blip as a result of the Lunar New Year holiday.
"It's not just the static level of inflation, it's the direction," said Qian, who is part of a 15-member monetary policy committee led by Governor Zhou Xiaochuan.
He said authorities were comfortable with inflation running between 1-2 percent in current circumstances, compared with the government's 2015 inflation target of 3 percent.
"If it's stable between 1 and 2 percent, it's very, very comfortable. But above 2 percent, there is a little bit of worry about inflation. Below 1 (percent), there will be bit of a worry about deflation," he said.