New interbank system to increase global use of Chinese currency, reduce transaction costs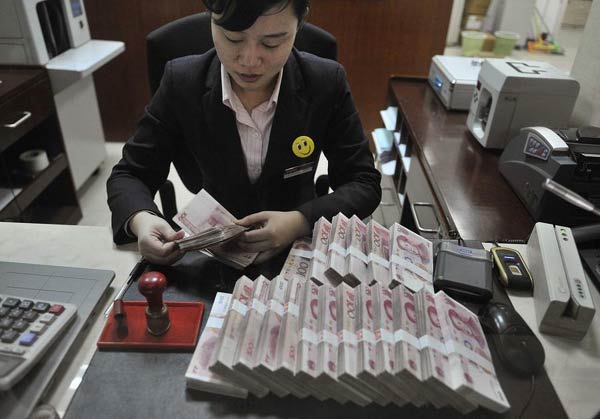 A clerk counts 100 Chinese yuan banknotes at a branch of China Merchants Bank in Hefei, Anhui province, in this March 17, 2014 file photo.[Photo/Agencies]
The nation will launch a cross-border interbank payment system this year, said Yi Gang, deputy governor of the People's Bank of China, after he attended a group discussion at the National Committee of the Chinese People's Political Consultative Conference on Wednesday.
As the capital account is gradually being opened up and capital flows keep growing, China aims to build a cross-border payment and clearing system that handles large sums of capital and integrate it with the domestic real-time gross settlement system, a source with direct knowledge of the matter told China Daily.
The launch of the CIPS will greatly increase global usage of the Chinese currency by cutting transaction costs and processing times.
"With the Cross-border Interbank Payment System, the central bank could improve the efficiency of cross-border settlements in yuan and better control the systemic risk associated with cross-border payments via information monitoring," said the source, who declined to be identified because he was not authorized to speak to reporters.
The country relies on the offshore yuan-clearing banks and correspondent banks in China for cross-border yuan clearing. But these channels can no longer support the rapid growth of cross-border yuan settlements, he said.
Hu Xiaolian, chairwoman of the Export-Import Bank of China and former deputy governor of the PBOC, told a forum last year that the yuan has become the second most-used currency, after the dollar, for China's cross-border payments.
As of Sept 30, 2014, cross-border yuan settlement had exceeded 4.8 trillion yuan ($767 billion), up from 3.58 billion yuan in 2009.
As a worldwide "payments superhighway" for the yuan, the CIPS will replace a patchwork of networks that make it more complicated to process yuan-denominated payments.
"The old networks were designed to meet the demands of overseas settlement in yuan in certain regions such as Hong Kong, but now we'll have a top-level design to comprehensively promote the internationalization of our payment and clearing system. We will also further increase our global influence on making rules for this kind of system worldwide," the source said.
The yuan moved into the top five among world payment currencies in November, overtaking the Canadian and Australian dollars by value, according to the Society for Worldwide Interbank Financial Telecommunication.
In December, the yuan reached a record high share of 2.17 percent in global payments by value, rising from 0.63 percent in January 2013. It trails the yen, which has a share of 2.69 percent.