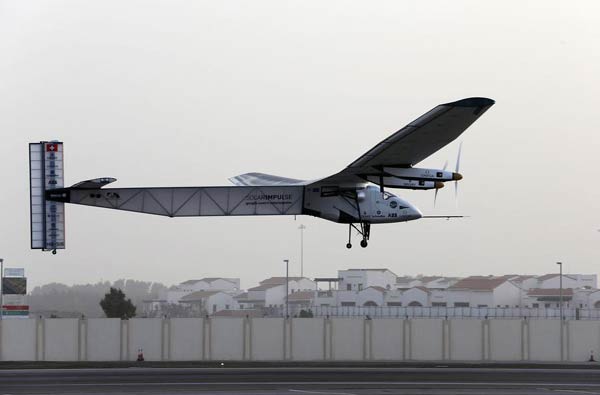 The Solar Impulse 2 takes off at Al Bateen airport in Abu Dhabi, at the start of an attempt to fly around the world in the solar-powered plane March 9, 2015. [Photo/Agencies]
Stops in China are important landmarks on the route of the Solar Impulse II, the first solar-powered plane to circumnavigate the world, said mission flight director Raymond Clerc.
This is because China is a big market for environmentally friendly technology, and the Solar Impulse II will raise awareness of this project in China, Clerc said on Saturday.
The plane took off on Monday in Abu Dhabi at 7:12 am local time. Its flight plan called for stops in various cities, including Muscat in Oman, Varanasi and Ahmedabad in India, Chongqing and Nanjing in China and Phoenix, Arizona in the United States.
Stopovers were also planned for Europe and North Africa.
The Solar Impulse II is expected to set a record for flying 40,000 km on solar power alone. To make the mission possible, 20 engineers and specialists have been monitoring the flight on video screens at the Mission Control Center, which was built for the project.
The takeoff took just seconds, and the workers at the MCC watched the live broadcast with pride and applauded as the plane took off.
One special guest was Albert II, prince of Monaco, who attended the event to show his support. He wore the MCC uniform and sat among the MCC engineers during the takeoff.
Prince Albert said that it was an honor to host the MCC in Monaco because it was "great to have Monaco's name associated with the project". Monaco strongly supports renewable energy, he said.
"Mission Control Center is the guardian angel of the Solar Impulse II because we receive all the necessary data to keep the plane in the air and keep the pilots happy and healthy," said Conor Lennon, MCC's communications manager.
Lennon said that MCC's control team will handle meteorological data monitoring, air traffic control, mission control and flight strategy control. All this information will be provided to the flight director, who will provide information to the pilot with all the instructions from takeoff to landing.