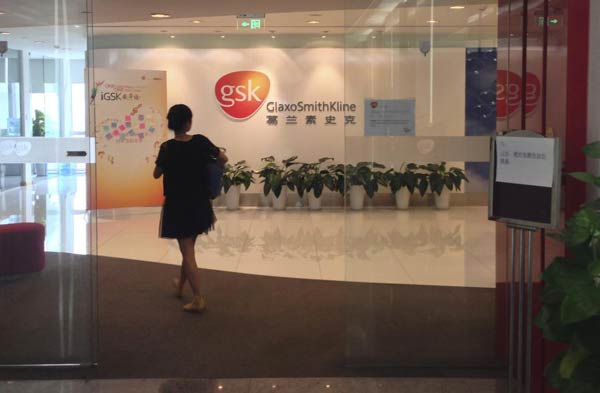 A Chinese employee walks into a GlaxoSmithKline (GSK) office in Beijing, in this July 19, 2013 file photo. [Photo/Agencies]
GlaxoSmithKline Plc, the UK drugmaker that was the target of a Chinese government probe last year, is firing about 110 employees in the Asian country for misconduct more than 18 months ago, people with knowledge of the matter said.
The disciplinary action is being taken in instances "where there is clear evidence of wrongdoing," according to a notice sent to employees that was seen by Bloomberg News.
The memo was from Herve Gisserot, senior vice president and general manager for pharmaceuticals and vaccines for Glaxo in Chinese mainland and Hong Kong.
China fined Glaxo 3 billion yuan ($479 million) in September.
The company said at the time that Chinese judicial authorities had found it guilty of bribing non-government personnel and it "fully accepts the facts and evidence" of the investigation. Glaxo published an apology to the government at the time and pledged to overhaul its practices.
Glaxo has increased monitoring of expense claims and engaged an independent legal firm and external consultants to review its operations in China, the London-based company said in an e-mailed statement in response to questions.
"Based on the findings, we have taken disciplinary action against employees whose conduct contravened GSK's values and code of conduct," according to the statement.