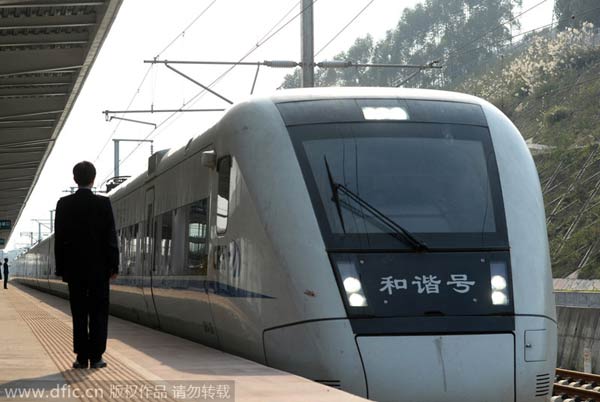 A train arrives at a station in Sichuan province, December 12, 2014.[Photo/IC]
The train is coming. That's all anyone is talking about on the southern outskirts of Xinjin county in Sichuan province. From the hole-in-the-wall eatery she has run for 20 years, it takes Li Xi a few minutes to walk over to where the brand new railway station stands silent and waiting. The 50-year-old local has watched the high-speed line between Chengdu, the provincial capital, and Mianyang stretch inch by inch, slowly cutting through fields of crops and clusters of crumbling farmers' homes.
In March, trains will run over this virgin route and stop here for the first time.
"It's coming," Li says. "I'm excited. Everyone is excited. There will be more employment here for my son and daughter, for my children's generation. They won't have to move away to the east to find work."
The same sense of expectation is spreading across the rest of western China, keeping pace with a growing rail network. In Sichuan province alone, 18 railway lines are being laid, all of them passing through Chengdu.
Locals in isolated areas like Li have watched the advancing lines of steel and concrete being thrown out like economic lifelines.
The train is coming, and in western China many believe it heralds the dawn of a business boom.
Over the past 30 years, while eastern China with its ready ports became a manufacturing powerhouse and magnet for foreign investment, landlocked and logistically isolated western China was largely left behind.
But all that is about to change, says Chi Fulin, president of the China Institute of Reform and Development, a think tank in Haikou, Hainan province.
Chi is among those who are convinced the expansion of the railway network in western China will give a huge economic boost to the region. And new rail links between Europe and Asia mean the benefits will run in two directions.
With business overheads rising on China's eastern seaboard, Chi says, the expanding rail network in the west is joining the hitherto disparate dots between foreign investors, cheap land, affordable labor and domestic and international markets.
"The development of the railway network in western China, especially the international railways, will promote the region's opening to the outside world."
Last year the central government spent 809 billion yuan ($130 billion) building 8,427 kilometers of railway lines nationally. Like a modern replay of the coming of the railways to the old American west, many of the new lines run out into provinces like Sichuan, opening up undeveloped regions and towns for the first time.