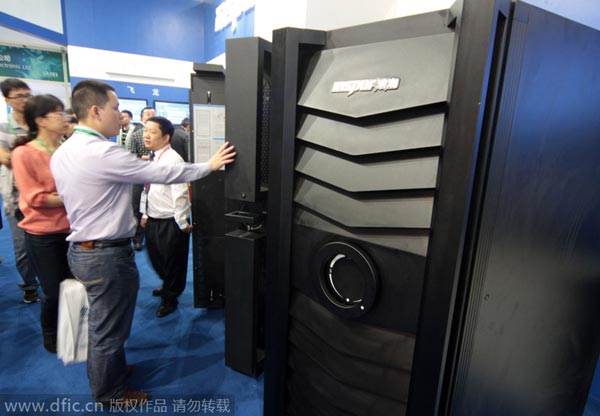 Visitors look at Inspur servers on display during the China International Defence Electronics Exhibition 2014 in Beijing, China, 7 May 2014. [Photo/IC]
Wang Endong, a chief scientist with China's Inspur Group Ltd, compared the development of Inspur Tiansuo K1 with climbing the world's second highest mountain, Mount K2.
"When we started to develop the high-end fault-tolerant server, we named it K2 to remind every researcher of the extreme difficulties we could encounter," said Wang. He added that the name was changed to K1 after the team succeeded.
After four years of work, Inspur, a leading supplier of cloud-computing solutions and outsourcing services in China, created the 32-way high-end fault-tolerant server.
A fault-tolerant server allows systems to continue running when part of the system fails and avoids loss of data.
It helps achieve near-zero downtime, which is crucial for businesses that cannot afford a single moment of failure.
The project was awarded first place in the State Scientific and Technological Progress Award during a ceremony to honor those who achieved key breakthroughs in cutting-edge scientific and technological fields on Jan 9.
"Inspur Tiansuo K1 has realized breakthroughs in key technological aspects such as system architecture, system bus protocol design, core chipset design, hardware design, architecture and radiating design, system BIOS, fault-tolerant operating system core, application system's development and transplantation.
"The breakthrough makes China the third country that can produce a 32-way high-end fault-tolerant server following the USA and Japan," said Wang.
Wang said Inspur declared about 1,000 technological patents while developing K1 and 126 patents were authorized. "Tiansuo K1 breaks the foreign countries' monopoly of high-end servers used in core economic fields such as finance and telecommunication," said Wang.
Statistics from the International Data Corporation showed Inspur secured 12 percent of the high-end server market by the third quarter of last year. Since last year, Tiansuo K1 has been used in 12 sectors including finance, electric power, public security and public transportation.
Wang predicted K1 would secure 30 to 50 percent of the domestic high-end server market this year.
Tiansuo K1 uses a multi-level fault tolerant mechanism of hardware and software.
It can exceed 99.9 percent availability and limits downtime to no more than 5.26 minutes each year. "To Inspur, K2 symbolizes the next peak we will conquer," said Wang. Inspur is developing a 64-way high-end fault-tolerant server, which is expected to hit the market next year.