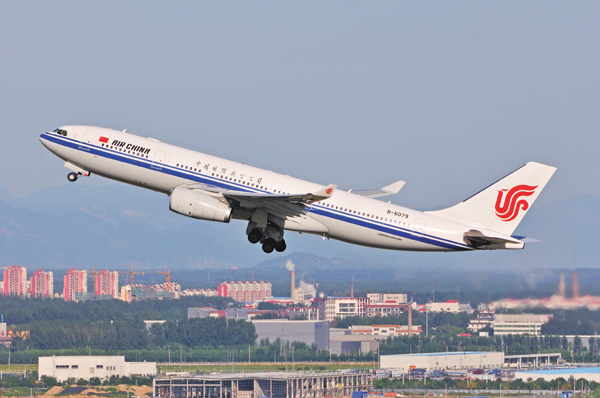 An Air China Airbus A330 takes off from Beijing Capital International Airport, Oct 30, 2013.[Provided to China Daily]
WELLINGTON - Air China is planning a direct service between Beijing and New Zealand's main international gateway of Auckland as part of a new strategic alliance with Air New Zealand, the two carriers announced Friday.
The two airlines sign a statement of intent as part of Chinese President Xi Jinping's state visit that would see Air China operate the Beijing-Auckland route while Air New Zealand, which stopped twice-weekly direct flights to Beijing two years ago, would operate a Shanghai-Auckland service.
The alliance would improve network connections in both China and New Zealand and increase the frequency of flights, while helping build business and tourism links, they said in a joint statement.
"China is New Zealand's second largest inbound visitor market and we expect interest in visiting New Zealand to continue to grow amongst Chinese travellers," Air New Zealand chief executive officer Christopher Luxon said in the statement.
"However, China remains a challenging market for us. Working with a strong, well respected home market carrier like Air China would give us a huge opportunity to convert this potential growth, while jointly offering the additional capacity to support it."
Air China CEO Song Zhiyong said Air China was committed to being a global hub carrier and alliances and partnerships were an important way to expand its international network.
"In the past three years we have witnessed double digit annual growth in the number of Chinese outbound tourists," Song said in the statement.
"New Zealand is one of the most important markets for outbound travel from China and Air China is confident about the promising future of this market."
The airlines would progress discussions with a view to reaching an agreement that could be filed for regulatory approval early next year.