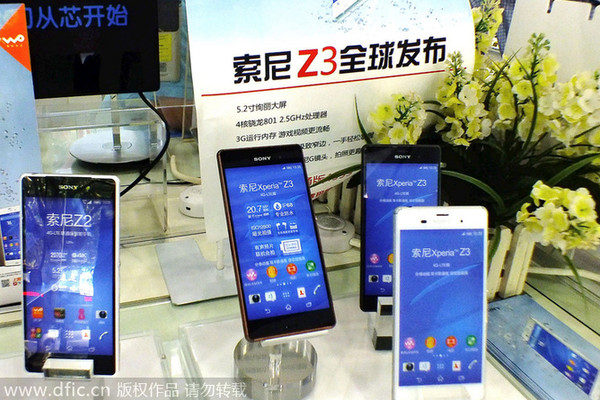 Sony Xperia Z2 and Z3 smartphones are for sale at a store in Yichang city, central China's Hubei province, Oct 9, 2014. [Photo/IC]
Sony Corp is projected to report a $2.1 billion loss in the fiscal year 2014, while its Sony Mobile unit may cut more than 700 jobs in Beijing as part of restructuring, the Beijing News reported Wednesday.
According to its second quarter earnings report and financial forecast in October, Sony Mobile is one of worst performing subsidiary of the multinational conglomerate.
After Sony announced the reduction in staff, dozens of employees gathered in front of Sony Mobile Plaza demanding better severance package and an open and just termination process. According to the company, the severance package has not been finalized yet, but it will be in accordance with relevant regulations.
Faced with mounting losses, Sony Mobile decided to reduce its involvement in Chinese mobile market and plans to layoff about 1,000 employees around the world. Sony Mobile will also stop development of mobile phones specific for Chinese market.
Sony Mobile Beijing branch has about 2,000 employees, with over 1,000 of them working in R&D, majority of whom face termination. Sony Mobile has promised a fair severance package, job training and help in finding employment.