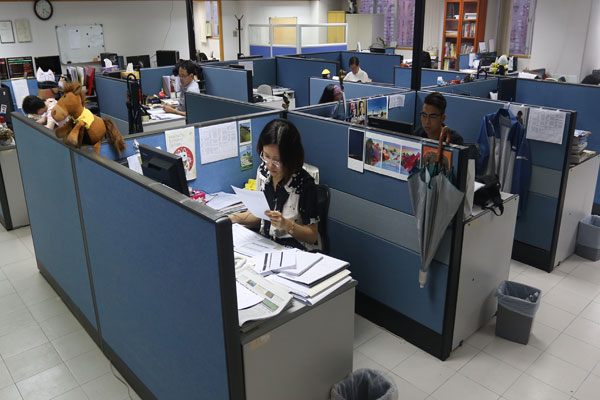 Workers in a skyscraper office in Hong Kong. Tall buildings, for many, are ideal workplace. [Parker Zheng / China Daily] 
Mu Yuqi, a 23-year-old college graduate, turned down a job offer from a bank in Shanghai. The reason was simple - he did not want to work in a skyscraper.
He said he does not have acrophobia, or fear of heights, but he dislikes the sense of isolation brought on by working in a tall building. "I felt quite depressed when I worked there for an internship. Each time I looked outside, I could see only walls of other buildings," Mu said.
He also had to remember to bring his entrance card wherever he went, otherwise, it meant he would have a lot of trouble getting into the office. "I liked the building as a tourist attraction when I was in high school," Mu said, "but not now."
Mu chose to work for another bank branch in a lower building. But as Shanghai's population continues to rise amid China's fast urbanization, expansion into the sky remains a key solution to the problem of limited land supplies.
"With roughly 250 million people set to move into Chinese cities in the next decade or so, the pace of urban construction - including roads, railways and water infrastructure and cultural institutions, in addition to tall buildings - has outstripped any previous period in human history," according to a report by the Council on Tall Buildings and Urban Habitat, a nonprofit organization based in Chicago.
A skyscraper is more than just a giant building. It is a landmark, a symbol of prestige, object of a city's pride and a business hub. Tourists love to go to the top to get a panoramic view. City authorities applaud the expanding list of super-tall buildings that represent a city's ambition and potential.
But some tall buildings seem to have failed to consider human needs.
As I talked to people who worked in tall buildings in Lujiazui, which has arguably the highest density of skyscrapers in China, I heard a string of complaints: There is no communal space; people are disconnected from each other; there are not enough elevators; the food is too expensive; and there are no balconies where one can breathe in fresh air.
Architects said they believe better designs may improve the situation.
Developers and designers have been attempting to improve working conditions for those in super-tall buildings, and one focus is to create better communications - to link the building and the rest of the world and enable people inside to communicate more easily with one another, said Antony Wood, director of the Council on Tall Buildings and Urban Habitat.
In Hong Kong, many office buildings are connected by overpasses of various heights, a form that future cities may take - going vertical but being linked horizontally at many levels.
Some buildings also include communal spaces, greenbelts, balconies and other features that make people feel as if they are at ground level.