TIANJIN - To many, shadow banks are nothing more than the mother of a crisis. But Hu Xiaolian, vice governor of China's central bank, believes they do some good in the real economy.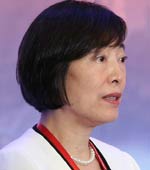 Hu Xiaolian, deputy governor of the People's Bank of China 
"We can't just say 'no' to shadow banks, because to some extent, they satisfy some financing demands of a diversified economy," said Hu, vice governor of the People's Bank of China (PBOC).
Her remarks at an international banking regulators' conference in northern China's Tianjin on Thursday were in contrast to warnings that the sector is a risk to the economy.
The banks have their own problems - loose regulation and regulatory arbitrage - but regulators should guide the sector meet investment and financing demand, she said.
The growth of shadow banks stems from the high proportion of indirect financing, or bank loans, in China's economy. As banks are under increasingly strict capital requirements, they have looked to financial intermediaries such the shadow banks to ease the strain, according to Hu.
In terms of regulating shadow banks, Hu said regulators should assess risk in the sector based on money flow from shadow banks and decide whether they actually serve the real economy or just provide more ways for licensed banks to do their traditional business.
The shadow banking system includes unlicensed and unregulated credit intermediaries like Internet financing companies. as well as wealth management and asset securitization business by licensed banks off their balance sheets.
In July, the regulator ordered banks to set up a firewall between wealth management products and cornerstone lending. Sales of such off-balance-sheet products have increased in recent years, with banks and trust firms marketing them as high yield alternatives to bank deposits.
China's shadow banking sector may have reached around 33 trillion yuan, the equivalent of 58 percent of GDP, 20 percent of total bank assets, according to a report by ANZ Research this month.