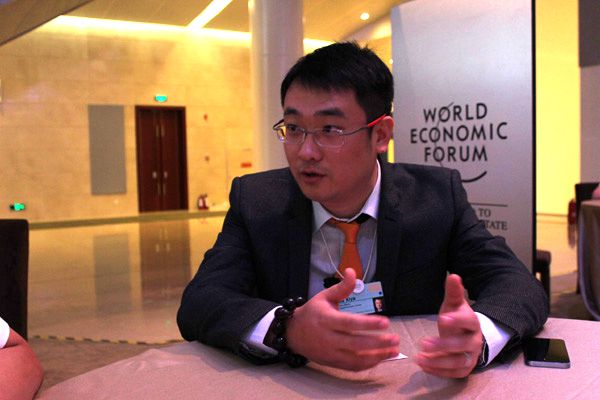 Ma Xiya, COO of Fesco Adecco, shares his ideas with reporters on innovation on Sept 11, 2014 at the Tianjin Summer Davos. [Provided to chinadaily.com.cn]
Being a HR management agency for 16,000 employees of the Alibaba Group, FESCO Adecco, a joint venture between the State-owned Foreign Enterprise Human Resources Service Co and the Swiss human resources company Adecco - has always been an innovative pioneer in the industry.
Ma Xiya, COO of FESCO Adecco spoke to China Daily on Sept 11 during the Summer Davos held in Tianjin. Ma expressed his respect for fellow recruiter LinkedIn and its recruitment services.
"So far, we haven't seen any competition between our two companies. On the contrary, we have close contact with the high-level leaders of LinkedIn and we've built some cooperation," Ma said.
"We are an all-round HR firm, recruitment service is just one of the fields that we are involved in. Along with the development of the Internet and information technology, we'll create a more innovative model to improve our services."
According to Ma, the success of LinkedIn is a prime example of utilizing online resources as a tool to provide a recruitment service. "We'll develop a more comprehensive model, not only focusing on recruitment," he added.
"We've created a new product, which is still working under the beta version, called 'each tweet'.
"It is an application for smart mobiles. Employers can upload information, such as the summary of the company, positions, job descriptions and salaries, on to the platform.
"You can also upload the amount of money that you want to reward the person who helps recommend suitable employees for you.
"It works like some taxi-calling apps and everyone in the market can contribute to this kind of recommendation and benefit from this model."
According to Ma, a deal has been struck with WeChat, and the app will be offered as a bundle with WeChat.
"I think the app will drive a new trend within the entire market of recruitment," Ma said. "We are currently developing many other products related to this app … a transformation will be seen within our company in the near future."