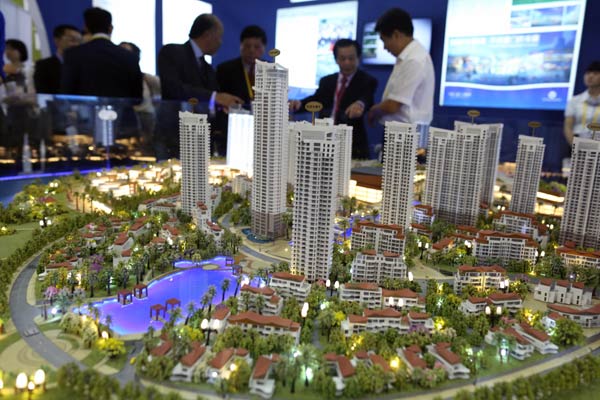 Models of apartment buildings displayed at the on-going 18th China International Fair for Investment and Trade in Xiamen, Fujian province. Developers are cutting prices to spur sales after volume dropped in the first eight months of the year. ZHU XINGXIN/CHINA DAILY
Home sales during the three-day Mid-Autumn Festival holiday were higher than on other holidays this year but were still down from the same period last year, Centaline Property Agency Ltd said on Tuesday.
A total of 110,000 units were sold during the holiday starting Saturday in the country's 54 leading cities, down 15 percent from the same period last year. The number was higher than during the previous three-day holiday-the Dragon Boat Festival in June-indicating that the property market may be gaining momentum.
Chinese homebuyers traditionally tend to strike deals on holidays, and September and October have been the two hottest months for home sales.
"Developers are cutting prices to spur sales after volume dropped in the first eight months of the year. In 'golden September and silver October', sales will pick up amid price cuts," said Zhang Hongwei, director of research at Topspur, a realty market consultancy.
In the first eight months of the year, home sales in the 54 cities dropped 23.2 percent to 1.52 million units from a year earlier.
Jeffery Gao, head of China property research at Nomura Securities, said in a press briefing in Shanghai last week that home sales bottomed out in the second quarter and the drop in sales would start narrowing in the third quarter. In the fourth quarter, he added, sales should even out, or slightly recover, from a low base of comparison last year.
Inventories fell this year as developers delayed building new homes amid sales dips. Nomura said that based on July figures, inventory in first-, second- and third-tier cities stood at 13, 15, and 33 months of sales, respectively.
A separate report from Centaline showed that home sales grew 9.24 percent in the 54 cities in August from July, showing that sales were picking up.
Zhang Dawei, an analyst with Centaline, said that the month-on-month pickup was spurred by relaxed home purchase rules and higher liquidity levels, but it was unlikely that there would be a sharp spike in sales in September and October.
"Inventory is still at an elevated level, and policy fine-tuning likely won't create an upsurge in sales," he said. "There won't be explosive sales growth in September and October," he added.
In terms of price, Nomura's Gao said there will not be a recovery in 12 months. His take is that prices will bottom out in the first half of next year and slowly recover in the second half of the year.