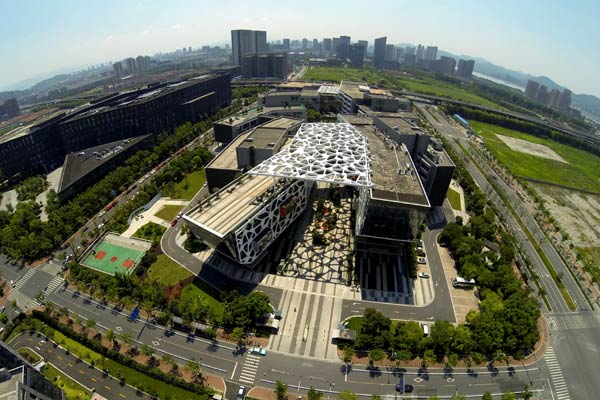 A bird's-eye view of the Hangzhou-based Alibaba Group Holding Ltd compound. The company has been in discussions with the US Securities and Exchange Commission as it seeks regulatory approval for its IPO. It originally had targeted an early August trading debut. [LIANG ZHEN/CHINA DAILY]
Alibaba's partnership is heart of its corporate value, according to a prospectus the Chinese Internet giant recently filed.
Unlike dual-class ownership structure, which employs a higher voting class of shares, the 27 partners of Alibaba are on a one-partner-one-vote basis, but entrusted with the exclusive to nominate a majority of the company's directors, says its prospectus.
The partnership consists of 22 Alibaba executives, four executives of the company's Small and Micro Financial Services Co and one executive at China Smart Logistics Network, a logistics joint venture.
Election of each director nominee will still be subject to their receiving a majority vote from shareholders voting at an annual general meeting. If an Alibaba partnership director nominee is not elected or departs the board after election for some reason, the Alibaba Partnership has the right to appoint a different person to act as an interim director till the next annual general meeting, according to its prospectus.
Although Alibaba formalized the concept of partnership in 2010, it has embraced it since the beginning at Ma's office in 1999.
So let's take a closer look at each of these 27 partners.
Jack Ma, Founder and Executive Chairman
Ma Yun founded Alibaba in 1999 at his apartment in Hangzhou, China, with his startup team later known as 18 Arhats. Before that, he taught English at a local college. Ma held the position of CEO and chairman from 1999 through May 2013, and has served as executive chairman since then.
He currently serves on the board of Alibaba and Soft Bank, the company's major shareholder. He is also a director at Huayi Brothers Media Corporation, an entertainment group in China.
Ma Yun owns 7.3 percent economic interest in China's largest e-commerce business and almost half of the parent of Alipay, a separate online-payment service. He has a net worth of $21.8 billion and therefore is China's richest person, according to Bloomberg Billionaires Index.
The 49-year-old billionaire graduated from Hangzhou Teacher's Institute with a major in English language education.
Joseph Tsai, Executive Vice-Chairman
Tsai joined Alibaba in 1999 as a member of the founding team and has served as executive vice-chairman since May 2013. He was previously chief financial officer and has been Alibaba's board director since its inception.
Prior to Alibaba, Tsai worked in Hong Kong for Investor AB, the main investment vehicle of Sweden's Wallenberg family, from 1995 to 1999. He was also vice president and general counsel of New York-based management-buyout firm Rosecliff. From 1990 to 1993, he was an associate attorney at wall-street law firm Sullivan & Cromwell.
Tsai also serves on the board of AutoNavi Holding Limited, a mobile map company recently acquired by Alibaba, and several other companies. He received his bachelor's degree in Economics and East Asian Studies from Yale University and doctorate from Yale Law School.
Jonathan Lu, CEO
Lu joined the company in 2000 and succeeded Ma Yun in 2013 as CEO of Alibaba. Prior to his role as CEO, he was chief data officer and also oversaw Alibaba's mobile operating system division. He was CEO of then-listed business-to-business e-commerce site Alibaba.com from February 2011 until its privatization in 2012. He was also CEO of Alibaba's consumer shopping site Taobao from January 2010 to June 2011. In 2004, he led a dedicated team to establish Alipay.
Lu holds a master's degree in business administration from China Europe International Business School.