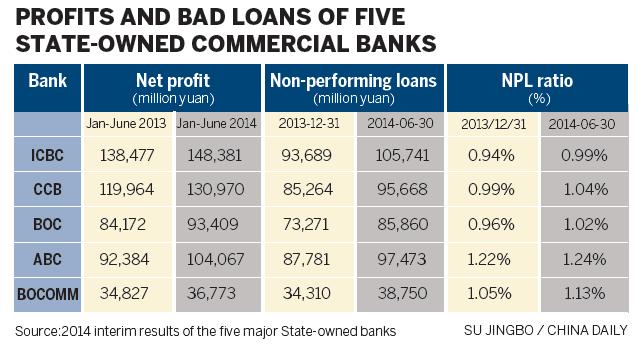 The asset quality of major State-owned banks weakened further during the first half of 2014 under the pressure of a slowing economy and restructuring, while their risk exposure expanded to more regions and sectors.
The five largest Chinese lenders had 423.49 billion yuan ($54.64 billion) in nonperforming loans as of June 30, up 49.18 billion yuan from Dec 31. Their average NPL ratio went up 5 basis points to 1.08 percent.
Commercial banks reported a total of bad loans of 694.4 billion yuan on June 30 with an average NPL ratio of 1.08 percent, the China Banking Regulatory Commission said in a statement.
Zhang Hucheng, president of a Beijing-based asset management company, said that small developers in some regions were having trouble repaying bank loans because of difficult conditions in the housing market. Problems among developers were a major cause for the decline in banks' asset quality.
In addition, some companies in the coal and steel industries have gone out of business. Small and medium-sized enterprises are also finding it tough to survive, further raising banks' risks.
In Jiangsu, Zhejiang and Fujian provinces, some homeowners have even stopped paying their mortgages. And certain steel trading companies, wholesalers and retailers are facing liquidity problems.
"The average NPL ratio for the banking sector will continue to rise in the second half as housing prices fall further and the economy remains under downward pressure," Zhang said.
The NPL problem expanded from its former epicenter of the Yangtze River Delta region to wider areas, including the Bohai coastal region touching Shandong, Hebei, Tianjin and Liaoning in northern China. Other rapid increases were seen in the Pearl River Delta region and the western region in the first half of 2014.
Several major banks said NPLs surged in the manufacturing sector as well as in wholesale and retail trade.
Industrial and Commercial Bank of China Ltd had a 15.7 percent increase in NPLs involving the wholesale and retail trade in the first half. Its NPL ratio in the sector reached 3.62 percent on June 30, up 22 basis points from Dec 31.
China Construction Bank Corp reported a 13.6 percent rise in NPLs to the manufacturing sector. Its NPL ratio in this sector rose by 30 basis points to 3.18 percent.
Apart from real estate, bad loans in sectors such as steel trading also triggered concerns. Risks in trade financing also extended to commodities such as coal, copper and iron ore.
Lian Ping, chief economist with Bank of Communications Co, said the business environment has continued to worsen for industries with excess capacity and has started to affect companies upstream.