Ratings agency says lack of disclosure hampers assessment of borrowers
More than 90 percent of the companies and projects trying to raise funds in China's fast-growing peer-to-peer lending sector received the lowest rating from a leading domestic credit rating agency, underscoring the huge risks of this virtually unregulated sector.
Dagong Global Credit Rating Co Ltd examined more than 1,000 prospective P2P borrowers, using its own scoring system to evaluate borrowers' creditworthiness. The firm gave 93 percent of the projects a Bi rating, the lowest rung on Dagong's ladder.
The main reason for this outcome, according to Dagong Chairman Guan Jianzhong, is a lack of disclosure by would-be borrowers. Most simply did not provide enough information, meaning they got a zero score for many specific metrics.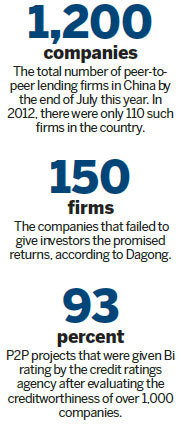 Critical datapoints for rating firms include forecast cash flows to repay maturing debt and the intended use of the funds. That information was missing in many cases, because there are no regulations mandating such disclosures.
Despite frenetic growth in recent years, China's P2P lending sector is essentially unregulated, leaving huge risks for individual investors who are chasing high returns but lack basic risk literacy.
In 2012, there were about 110 P2P lending firms in China, according to an industry white paper. By the end of 2013, the number had soared to about 700. And by the end of July this year, the number had surged further to some 1,200, according to the China Banking Regulatory Commission.
The CBRC noted that the heads of 150 firms had vanished without a trace after failing to give their investors the promised returns.
The latest warning came from HongLing Capital, which runs a P2P website, after it announced that officials of four paper manufacturers in Guangdong province that raised funds on its website could no longer be contacted. The combined principal was 100 million yuan ($16.3 million) and more than 4,500 investors were involved.
It was the largest such case so far by value in China's P2P history. "HongLing is being relatively responsible, because at least it is willing to disclose the default. China's P2P industry is so disorderly that in many cases, P2P firms conceal defaults," said Zhang Zhilong, an industry insider.
China's P2P firms usually do not ask borrowers to disclose detailed information, and there are no formal regulations covering the industry. In April, the CBRC announced four general principles concerning supervision, and detailed regulations are expected to be released later this year.
However, Dagong said there are genuine business opportunities in this industry. On Friday, it launched a digital platform to disseminate its ratings for investors.
Guan said the platform is free and available to all. But he said that the rating agency aims to get more P2P firms and investors involved and perhaps start charging fees to investors.
In response to concerns that most of the borrowers got the lowest rating, which gives investors little to go on, he said: "We can only hope that our initiative will encourage more borrowers to disclose information and that regulators will require it."