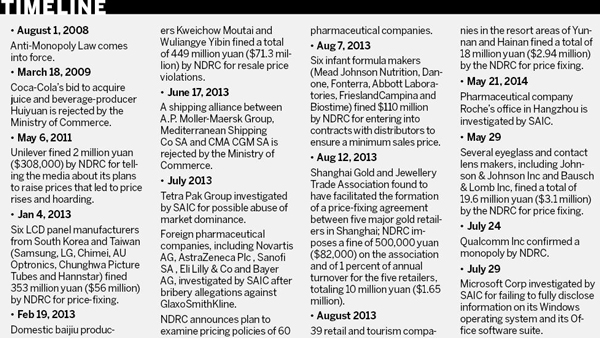 Some have suggested that China might be in breach of its World Trade Organization membership obligations in targeting foreign companies under antitrust law.
But Jiang, who was formerly a Chinese Ministry of Commerce official with the WTO in Geneva, says that this cannot be the case.
"Competition law is actually not included in any WTO obligations to give equal treatment to foreign companies so we can't say that is discriminatory in this regard.
"When you look at the cases brought by the National Development and Reform Commission they are about 50/50 between with foreign and Chinese companies. The number of foreign companies investigated by the other regulatory body SAIC (the State Administration of Industry and Commerce) is very low."
Anil K. Gupta, professor of strategic management at the University of Maryland's Smith Business School, says it is difficult to see the recent investigations as part of some wider battle between China and the United States.
"There might be some sense of an established and emerging superpower rivalry between China and United States entering into the economic sphere but not in this case.
"A lot of the recent cases involve German companies, and China and Germany generally enjoy an excellent relationship."
Chinese antitrust legislation, which was largely modeled on EU law, came into force in 2008.
Previously, China had only an unfair-competition law, which related to copying brands and companies bribing customers to build market share. It remains in place.
Some of the most high-profile actions so far have been brought against Chinese companies and not foreign ones.
The one involving the biggest fine was against domestic producers of baijiu, the fiery white alcohol drink that is popular at banquets in China, for insisting that retailers could not sell the drink for less than a minimum price.