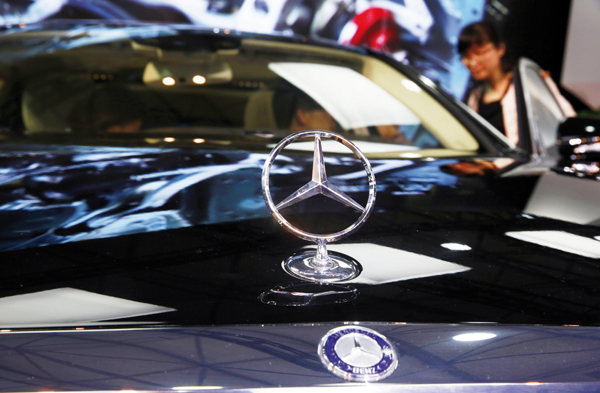 Officers with the National Development and Reform Commission raided Mercedes-Benz's Shanghai office on Aug 4. Provided to China Daily
None of the major foreign companies being investigated has commented publicly on their individual cases.
The American Chamber of Commerce in China, or Amcham China, has also yet to issue a statement.
The European Union Chamber of Commerce in China said on Aug 13 that while anti-trust law is "beneficial for developing a healthy market economy in China" it had a number of concerns about the recent moves.
"In some of the industries under investigation, domestic companies have not been targeted for similar violations. Furthermore, in some cases that involve joint ventures, it has only been the foreign partner that has been named as being a party to the investigations."
James Zimmerman, a former chairman of Amcham China and managing partner of the Beijing office of law firm Sheppard Mullin Richter & Hampton, also says the recent moves raise issues for foreign companies operating in China.
"In the event of an investigation it is left for observation whether a foreign company will have any effective judicial remedy to counter a powerful investigating government agency.
"Overall, I am hopeful that in time China will take steps to adhere to the rule of law in anti-monopoly investigations; otherwise, China might be perceived as a regulatory bully."
Zhou Zhaofeng, counsel at international law firm Taylor Wessing in Beijing and vice-chair of the legal and competition working group of the EU Chamber of Commerce in China, says the test of bias against foreign companies has to be whether actions would be brought under US or EU law.
"If the answer to this is yes then we shouldn't put too much emphasis on any other motives behind these actions," he says.
"From what I have seen from news reports of these cases, particularly in resale price maintenance of auto parts and after sales service (of cars), as someone who studied competition law in Europe, there would be evidence of wrongdoings under EU law also."