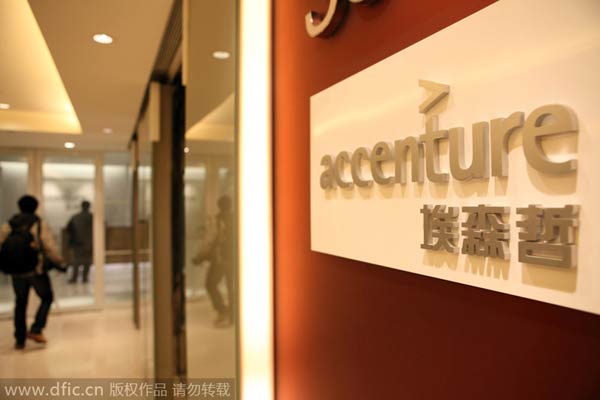 An Accenture branch office in Shanghai, China, Dec 16, 2009. [Photo/IC]
BEIJING - China's anti-monopoly probe into Microsoft expanded to Accenture on Wednesday as one of the company's China offices undergoes investigation.
The State Administration for Industry & Commerce said in a statement it is investigating Accenture's office in Dalian city, Northeast China's Liaoning province, for being the financial service outsourcer of Microsoft China Co.
At the same time, the administration is investigating a department of Microsoft China Co and its employees following probes into three of its branches in Shanghai, Guangzhou and Chengdu. Accenture cannot be reached for comments.
Microsoft announced earlier that it will facilitate the investigation and "actively answer" questions raised in the anti-monopoly case.
The administration has yet to reveal any results and the probes are still underway.
In June 2013, the administration investigated complaints from enterprises that Microsoft used tie-in sales and verification codes in its Windows operating system and Microsoft Office software suite, practices that may have violated China's anti-monopoly law.
The administration said the company did not fully disclose information of its products, as required by law, causing software incompatibility issues.