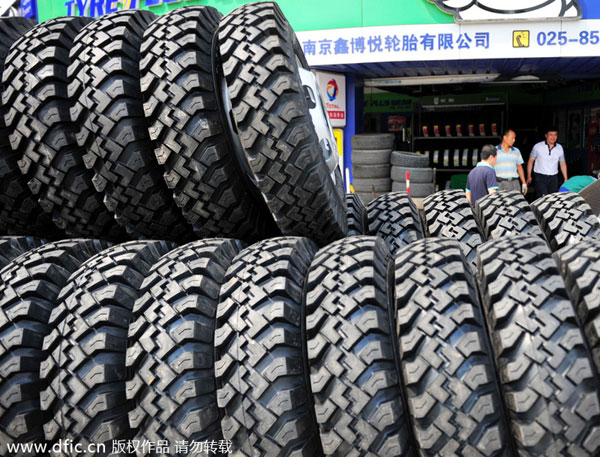 Tires are displayed outside a tire store in Nanjing, Jiangsu province. [File photo/IC]
Union pushing officials in Washington to launch dumping investigation
China's tire industry is closely monitoring a petition by the United Steelworkers union, which is calling for United States trade officials to launch an anti-dumping and countervailing duty case against certain tires from China.
It's the latest trade spat between the world's top two economies.
A source with the China Rubber Industry Association told China Daily on Thursday that its members are "discussing solutions" to deal with the possible US probes. The source declined to comment further.
On Tuesday, the union - which represents 850,000 workers in North America in industries that include metals, rubber, chemicals, paper, oil refining, and the service and public sectors - filed a petition with the US Department of Commerce seeking an anti-dumping and countervailing duty case against passenger and light truck tires from China.
The union alleges massive dumping and substantial subsidization of sales of these products by China into the US market, said Leo W. Gerard, president of the international division of the union.
In 2009, the union claimed a surge in Chinese tire imports from 2004 to 2008 had cost 7,000 US jobs, and it sought restrictions on the imports. US President Barack Obama backed the move, and in September 2009, the administration levied a new duty of 35 percent on tire imports, which were imposed in addition to a pre-existing 4 percent tariff.
China's appeal to the World Trade Organization did not win support from the panel, and Chinese exports of tires to the US substantially declined in the ensuing three years.
The US relief expired in 2012.
China's exports of tires to the US market more than doubled to 50.8 million units last year, worth more than $2 billion. In the first quarter of 2014 alone, tire imports from China surged another 24.6 percent, the union said.
"The US Commerce Department usually follows the [union's] petitions and thus is very likely to launch a trade probe into Chinese tire exports again ... The results may not be optimistic," said Tu Xinquan, deputy director of the China Institute for WTO Studies at the University of International Business and Economics.
The US Commerce Department has 20 days to decide whether to open the investigations.
"The tire case shows that the US is taking a tough stance on China, a move for the Democratic Party to win voter support before the midterm election," said Yao Weiqun, associate president of the Shanghai WTO Affairs Consultation Center.
"The Chinese exports are low-end tires, and they don't endanger the US industry," Yao said, given that the US predominantly produces high-end tires.
Tu noted that the world's two largest economies are seeing frequent trade friction.
China expressed "strong dissatisfaction" with the US decision on Tuesday to apply preliminary duties, ranging from 18.56 percent to 35.21 percent, on Chinese solar equipment imports, claiming they had benefited unfairly from government subsidies.