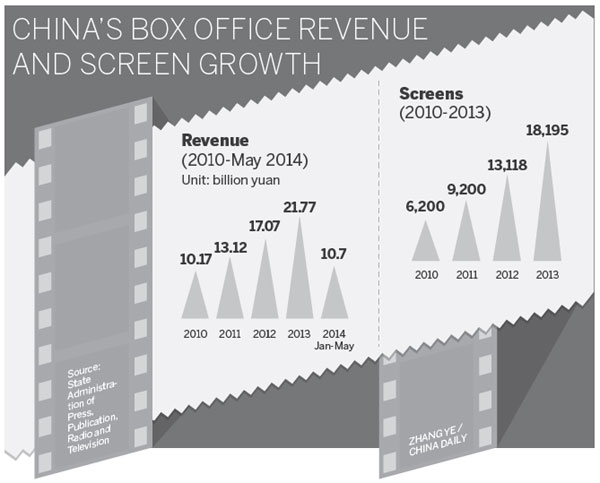 The national
film
market grossed more than 10.7 billion yuan ($1.7 billion) in revenue by the end of May, surpassing the 10.2 billion yuan generated in all of 2010, according to a report by EntGroup Consulting, the
Beijing
-based entertainment industry consultant.
Domestic productions took up the biggest share, with ticket sales of 5.7 billion yuan, leaving the rest to their imported counterparts.
The highest-grossing film so far this year was the domestic movie The Monkey King, which entered theaters on Jan 31, during the Spring Festival. It raked in 1.04 billion yuan in box office receipts, followed by the Hollywood blockbuster Captain America: The Winter Soldier, which took in 720 million yuan.
A total of 131 movies were released during the January-May period, with 25 of them earning more than 100 million yuan in ticket sales. Of those, 13 were foreign films, according to EntGroup.
The top 25 movies contributed about 82 percent of the period's total box office, data showed.
Box office revenue in the first five months of this year witnessed a year-on-year increase of 17.6 percent.
"I think that the market stands a good chance of taking about 28 billion yuan in box office receipts throughout the whole year, based on the previous annual average growth of around 30 percent," said Huang Qunfei, executive vice-president of Huaxia Film Distribution Co Ltd, one of the two film companies in China that are authorized to distribute imported movies.