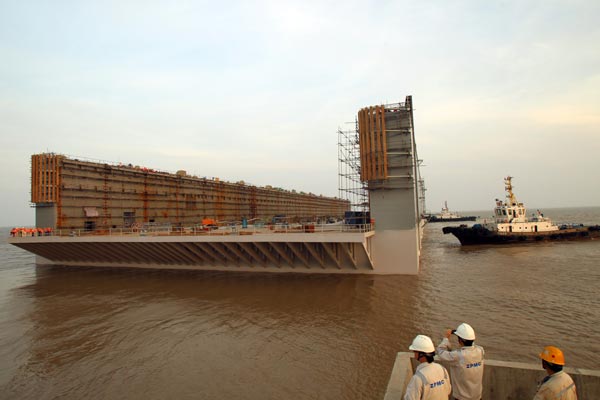 A floating dock, built by Shanghai Zhenhua Heavy Industries Co Ltd for a United States company, is ready for delivery at Qidong, Jiangsu province. Xu Congjun / For China Daily
Ambassador Max Baucus' mission to upgrade business ties between the two largest economies has rivers to cross, Zheng Yangpeng reports
The United States' new ambassador to China came to Beijing with the idea of bolstering business ties between the world's two largest economies. Like his predecessors, he decided that, compared with the choppy waters of politics and security, business is one area where Beijing and Washington can find common ground.
Which is why Max Baucus kicked off his first investment forum with a "hard sell": Uncle Sam wants Chinese investment to help rebuild the US.
"America really needs to repair its infrastructure," Baucus told a recent forum that brought together 130 Chinese and US corporate executives and investment advisers. "The roads, the highways, bridges and airports need repair, and need to be rebuilt, in many cases. Frankly, that means there is a huge opportunity."
Chinese experts in the outbound investment field, however, cautioned that the very elements the ambassador wants to downplay - the political and security factors - may determine whether the ambassador's dream becomes reality.
"The largest obstacle for Chinese investment in US infrastructure is the US' deep-rooted distrust toward the Chinese government and companies, not only the State-owned enterprises but also private firms," said Xu Hongcai, a researcher with the China Center for International Economic Exchanges. Together with the US Chamber of Commerce, the think tank hosted the US-China CEO and Former Senior Officials' Dialogue.
Xu said that although the dialogue has entered its sixth year, he and his colleagues still have found it frustrating to build trust.
That distrust is embodied by the Committee on Foreign Investment in the US, or CFIUS, a constant source of anxiety for many Chinese companies aspiring to invest in the US. CFIUS has a mandate to conduct a national security review on any investment that gives a Chinese entity "control" of an existing US business.
CFIUS investigations led Huawei Technologies Co Ltd, the Chinese telecommunications equipment giant, to withdraw from a $2.2 billion deal in 2007 to take over US networking equipment maker 3Com Corp and the $2 million purchase of technology from 3Leaf Systems Inc in 2010.
In 2005, an $18.5 billion bid by China National Offshore Oil Corp for Unocal Corp failed over congressional opposition before it even had a chance to undergo a CFIUS review.