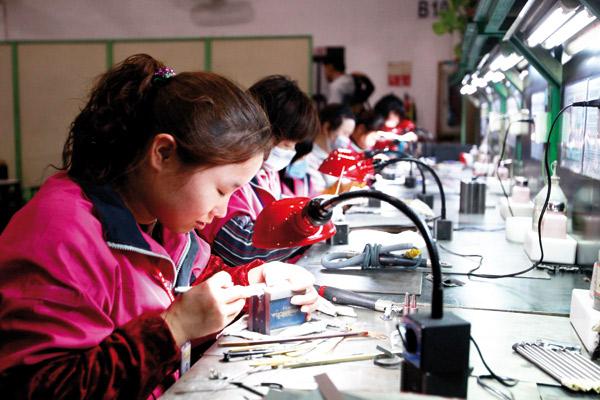 Foxconn employees on the factory floor in Shenzhen. Zou Zhongpin / China Daily
In February, the day after the traditional Chinese New Year holiday ended, migrant workers lined up outside Foxconn's gates looking for work 20,000 of them, says the company's spokesman for the Chinese mainland, Liu Kun.
"They were waiting seven days for an opportunity," Liu says.
Skilled workers with experience over the age of 30 are the most sought after. Foxconn also prefers to employ young women from the countryside, says Liu, because traditionally they have worked to support their family while also performing domestic duties at home.
"They know responsibility," he says. "This is a very good quality."
In reality, Foxconn doesn't really get what it is chasing in a worker.
There are roughly six male employees for every four females. The profile of the average employee in the Shenzhen factory is a 23-year-old male from a poor rural area who has a low level of formal education, and little or no practical work experience.
Liu complains that for the younger work force, loyalty and a lifelong career with a single employer are a thing of the past.
"Sometimes they are like working-holiday tourists," Liu says.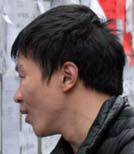 Wu Shengyang
Wu Shengyang and his friends rank among that generation of more mobile workers who have turned retention rates for companies on their head.
They slowly walk along a wall in the maze of streets that is downtown Shenzhen, perusing a collage of printed and hand-scrawled job notices plastered on boards and walls.
"We just got here from Guangzhou today," he says. "We're only looking for short-term jobs. It's easier to come and go."
Packs of other 20-something migrant workers follow in their wake. It's the old area of the city, and scooters and hawkers throng the narrow lanes. Neighboring Hong Kong feels like a world and a century away. Only 30 years ago, Shenzhen was little more than a fishing village. It's now a bustling metropolis and a monument to China's dramatic growth.
Wu hopes to find work nearby in what looks like a cluster of dilapidated warehouses, each a teeming ecosystem of small businesses, light industry, micro-factories and eateries.
"I've been doing short-term work at places like this for about five years," says Wu. "Mostly with clothing companies. We get paid about 15 yuan per hour. We stay in small motels right now, but we want jobs with dorm housing. We are always traveling around the country looking for the best short-term job. It's better because you get paid for what you work."
The swagger goes out of him, momentarily.
"Also, I'm not qualified for Foxconn, I don't think."