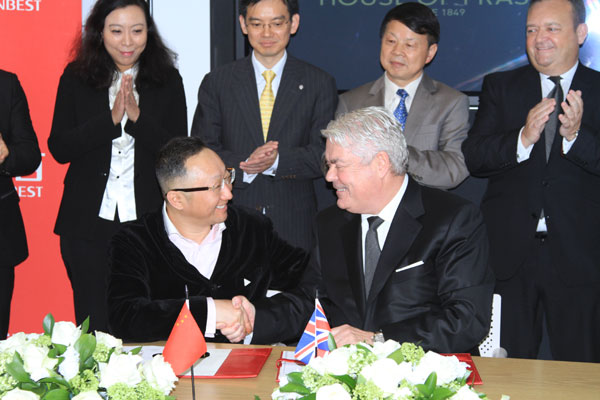 Yuan Yafei, front left, chairman of Sanpower Group, shakes hands with Don McCarthy, front right, chairman of House of Fraser, at a signing event in London for Sanpower acquiring House of Fraser. for CHINA DAILY
Once again a world-famous brand has been surprisingly snapped up by a relatively unknown Chinese company. This time it is Nanjing-based Sanpower Group which launched a successful 450 million ($750.47 million) takeover of House of Fraser, one of Britain's best-known retail store brands.
Sanpower's audacious strike follows takeovers of British companies by China's increasingly ambitious and acquisitive private sector.
Manganese Bronze Holdings Plc, manufacturer of London's black cabs, was bought by China's Zhejiang Geely Holding Group Co Ltd last year while Chinese companies now also own Gieves & Hawkes, the Savile Row tailor founded in 1771, luxury
yacht
firm Sunseeker International Ltd and breakfast brand favorite Weetabix Ltd.
Sanpower's acquisition is particularly noteworthy given the intensity of the competition faced throughout the bidding process. Sanpower's competitors included UK sports retail chain Sports Direct International Plc and France's upmarket department store chain Groupe Galaries Lafayette.
Both competitors' core business is retail and clothing and both match substantial industry experience with formidable financial muscle.
Immediately after the deal was announced, House of Fraser CEO John King proclaimed that the agreement would lead to an "ideal opportunity to take the [House of Fraser] brand to China".
But recently Galaries Lafayette also said that by the end of 2014 a flagship China store would open in Beijing, a clear commitment to expansion in China.
Sanpower, on the other hand, can lay no claim to a place on the international stage, and the sprawling conglomerate's business portfolio could not be more unfocused with interests spanning finance, property, media, transport and information technology.
And yet its bid appears to have been favored and accepted very readily. This particular cross-border takeover, therefore, represents a clear sign of just how more and more determined Chinese companies are to expand internationally.