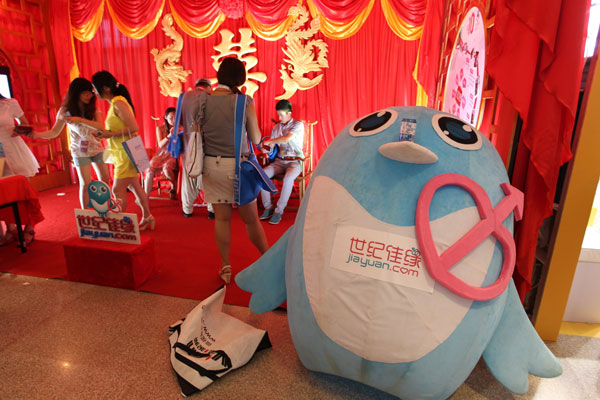 Jiayuan.com's booth at an international Internet exposition in Beijing. The online dating website went public on the Nasdaq in 2011. Provided to China Daily
Entrepreneur diverts her passion from lonely hearts to langauge skills
It takes some time to identify Gong Haiyan's work station, from where she runs her second business after the success of Jiayuan.com - one of China's leading online matchmaking platforms.
Instead of having her own personal office as normal company leaders do, she simply puts herself in among the hundreds of her employees.
"I like it that everything just goes back to zero again," said Gong, founder and former chief executive officer of Jiayuan.com International Ltd.
Widely referred to as China's first online matchmaker, Gong became well-known for her first proper entrepreneurial experience, in which she started Jiayuan.com and developed it into a Nasdaq-listed company in 2011, eight years after she set it up.
Born to an impoverished family in a rural village in South China's Hunan province, Gong began to support her family when she was in high school and had her first experience of making money by running a stationery shop. It made her realize it need not be that hard to turn a profit.
After successfully bringing Jiayuan.com to the capital market, Gong stepped down from a management role at the online dating website.
"I think it was time for me to leave because I had made my contribution to the company to the most of my ability. I didn't think I could continue to explore my potential or try something new to fuel my growth as an entrepreneur if I chose to stay there," said Gong.
The day after she left her management job at Jiayuan.com, she embarked on starting her second business - online English education.
She made the decision to enter this relatively new sector out of her own desire for a better and more convenient oral English education experience.
During the roadshow for Jiayuan.com in the United States, Gong found that she could hardly speak a complete sentence in English when talking with potential US investors and had to depend on an interpreter. 
"It wasted a lot of time and I also felt embarrassed," said Gong.
Immediately after she returned from the US, she signed up to a brick-and-mortar English teaching agency and paid 50,000 yuan ($8,048) for the course. It turned out not to be very effective for Gong. She found it hard to persist because it took much of her time getting to the class.