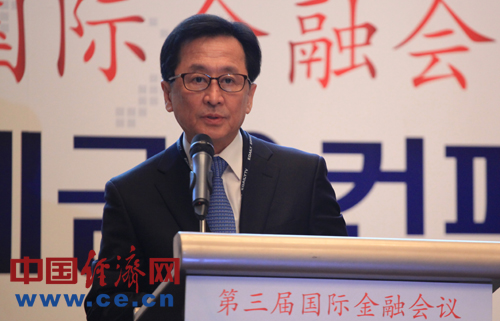 Choi Soohyun, governor of the Financial Supervisory Service of South Korea [Photo/www.ce.cn]
China is a very important region for South Korea's financial sector, which hopes to internationalize to find new growth engines to offset its domestic slowdown, a Korean official said Friday at the third International Financial Conference.
Choi Soohyun, governor of the Financial Supervisory Service of South Korea, which examines and supervises financial institutions, said Chinese and Korean financial authorities should share regulatory information to cope with global issues such as the US Fed's tapering of the Quantitative Easing.
Choi also said financial companies in both countries should try to meet the increasing demand for their services,which will be generated by enlarged trade and investment between the two countries after they sign free trade agreements. China and South Korea conducted the tenth round of FTA talks in March.
He added that China is a country where South Korean financial companies have a larger presence than any other country and it is also close to South Korea in terms of geography, culture and concerning economic growth potential.
South Korea surpassed Japan last year to become China's biggest source of imports in the Asia region. South Korea supplied 9.24 percent of China's imports in 2013, up from 9.17 percent in 2012, while the proportion of imports from Japan slid from 9.78 percent to 8.19 percent, according to South Korean official data. China is also South Korea's largest trading partner, and its exports to China increased 8.6 percent last year to $183.07 billion, according to the Ministry of Commerce of China.
South Korea's automobile exports reached a new high of $48.7 billion in 2013, with exports to China up 13.2 percent, according to the South Korean Ministry of Trade, Industry and Energy.
Kwun Heung Gu, vice president of the Korea Insurance Development Institute, said at the conference that South Korea's auto insurance market is already saturated and six Korean companies - including Samsung, LG and Hyundai - have extended their insurance arms to China.
Wang Xujin, dean of the Insurance Department at Beijing Technology & Business University, said that one way for Korean insurance companies to cooperate with China is to hold a stake in a Chinese insurance company.
Wang also said that Chinese insurance companies can learn from Korean insurance companies, which have expertise in auto insurance, health insurance and endowment insurance.
The International Finance Conference - with the theme "Sino-South Korean financial cooperation: Innovative opportunities facing the future" - was held in Beijing on April 3 and 4. It was organized by South Korean media organizations EDAILY and EDALY TV and China's economic news portal www.ce.cn.